The Making of a Hata Yogi: Ready, Set, Go!
The second Isha Hata Yoga Teacher Training Program began on Guru Purnima. The Isha Blog team will be following the group's journey over the next 21 weeks. This we week, we look at their first impressions.
Week 1 84 future hata yogis from 18 countries began the 21-week Isha Hata Yoga Teacher Training Program on Guru Purnima on 22nd July at the Isha Yoga Center. Over the next 21 weeks, we will be bringing you updates on how they're doing, their experience of the program, and a behind-the-scenes look at the making of a hata yogi and a Hata Yoga teacher.
Many of them are in the ashram for the first time (a few are on their first trip to India), and they've been soaking in its energy and ambience. We caught up with a few of them about their experience of the ashram, what inspired them to take this big step, and their future plans as Hata Yoga teachers.
Caroline, from London, left her job as a chemist and is at the Isha Yoga Center for the first time. Speaking about her first experience of the Dhyanalinga, she said: "I have never been to a place like that and the first impression was very powerful. I felt the energy was so strong within my body and the second time it was still strong but not so overwhelming."
Arvind Falke, born and brought up in Mumbai, decided to take a sabbatical from his IT job and explore teacher training. He told us how unexpectedly agreeable his company was to the idea:
"In India the sabbatical concept is still not recognized unlike any other part of the world. So I was a little skeptical whether I would get any leave or not. I was almost ready to resign but I don't know what happened, my boss considered it and so did my superiors and the HR department and that's how I am here."
A veteran of several Isha programs, he discussed the motivation behind joining up for the teacher training:
"Once I went through the Isha offerings, be it Bhava Spandana, Shambhavi Mahamudra or Shoonya, I have been pretty consistent about my practices for the past many years and I realized that this is something that is really taking me in a different direction. I am able to understand it very well. I am able to experience things in a very different level and I felt that Hata yoga could be a natural progression for this. After learning this I want to just take it to all the people who really require these kinds of programs. I would like to give it with all my heart so that there should be at least some difference in their lives."
Prashanth, from Gujarat, who has been living abroad for twelve years now and working in the hospitality industry, spoke to us about why he chose the Isha Hata Yoga School:
"When you do yoga, most places teach you yoga but then they don't teach you the intricacies of what happens when you do a particular posture, and that was one thing I was looking at the curriculum that Isha had and it said that the physiology and anatomy is one of the major topics that you start off with."
Get weekly updates on the latest blogs via newsletters right in your mailbox.
Globetrotter Francisco from Holland was in Lebanon and came across Sadhguru's poster at his language class. One thing led to another and he is now in India to pursue the teacher training. Incidentally, he celebrated his twenty-ninth birthday the day we interviewed him. He explained why he thinks Isha's classical hata yoga will be a hit in the West: "The way the world is now, I think especially in the West there will be more and more people coming to look for something like this because they will be fed up of solutions that are offered in the West which only scrape the surface level, at least as far as I have been able to find them."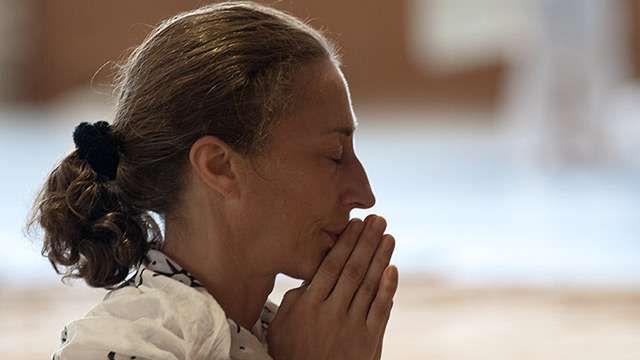 Marie, from France, a long-time Isha volunteer, told us about what inspired her to take up the 21-week course: "I know the seriousness of his teaching, I know the accuracy Sadhguru is asking us to maintain in terms of yoga and the benefit of it. I think I had enough experience of his teaching now after seven years here to make sure that although I don't know how I will be in a couple of months, I know it is going to be something which is going to have a deep impact on me, transform me and I am really looking for it. And I know already because I had a little taste of this program doing the 21-day Hata Yoga program a while ago, and this longing I have for sharing it with other people is growing. And the more I have this yoga in my life the more I will be willing and happy to share with some more people, especially in my country in France."
Eager to imbibe the sacred science of classical hata yoga, the teacher trainees have hit the ground running in their first week, and begun with the Upayoga classes.
Editor's Note: Stay tuned each week as we bring you the latest news on what's happening at the Hata Yoga School and with the teacher trainees as they learn to bend their bodies and break their limitations!