Bringing Devi Home
A few of the many people who have brought home a Linga Bhairavi yantra share their experience of the yantra ceremony with Sadhguru, and the experience of the yantra.
A few of the many people who have brought home a Linga Bhairavi yantra share their experience of the yantra ceremony with Sadhguru, and the experience of the yantra.
About a year ago, I wanted some direction in life. I didn't really know what to do. Someone told me that the best solution would be to consecrate my own personal space by getting a Yantra. I decided to get the Avighna Yantra. I was not looking forward to it, because being physically disabled in both legs I find it very difficult to negotiate my way through the ashram. When I saw the program I still was very apprehensive as to whether I can complete the whole program. I am relieved and pleased today that I have completed it. No one told me that it would be as big as this!
It was overwhelming when I sat in front of Sadhguru, to start the ceremony. It was really moving and very serene. It was something I think I will carry for a long time. What I did not realize is that I am taking something very big to my home, to my people, to my friends and family.
Arun Patel, UK
I've never ever been a ritualistic person, I've always been very logical and wanted to understand everything. I'm not the sort of person who goes to the temple and does rituals. But on one of Sadhguru's blogs during Navratri he suggested the Devi stuthi, and to do it a minimum of three times every day. And he explained the meaning behind Navratri, which was something I had never been able to understand. And I thought, "This is great. I understand this, I want to do this."
So I started doing the Devi chant every day and increased it by one every day so by the end of nine days I was doing eleven. Then I just felt Devi wants to come home and I started looking into it deeper. And so here I am and the yantra ceremony was really beautiful. Everything was just perfect because leading up to it, I had also registered for some of the rituals with my husband and that gave us a little more connection with Devi because we've never had that connection. It was perfect because we learnt the stuthi and the arati and just the whole energy, the whole atmosphere was overwhelming. All I can say now is that I'm really looking forward to being with Devi every day.
I just felt a big hug from Devi. I just felt totally engulfed, totally embraced – like I didn't exist. Her arms on either side just came out and it could have gone on forever.
Get weekly updates on the latest blogs via newsletters right in your mailbox.
Nitin: I am an IT professional.
Pooja: I am a home maker. We have a five-year-old daughter, and we live in the United States.
My husband has wanted to have the yantra from the past I would say one or two years but for some reason it was not happening. But this time I just let it go. I told myself "Let's go with it." I decided to leave it to Devi. It's all Devi's Grace. If it has to happen, it'll just happen.
Nitin: The main reason we wanted to get the Yantra was, we wanted some additional support for our sadhana and I heard from lot of people that the Grace of Devi is amazing. They have seen so many changes in their life which really excited me, and I wanted to experience transformation through Devi's energies too.
The last three days have really been amazing. Right from sign up, when we first interacted with the volunteers, we saw the kind of joy that they have, that joy is coming from within them. What we really wondered is, how come the people are so happy from inside? The additional support that the volunteers have been has been really amazing and helpful. And the most important part was last night when Sadhguru initiated us through the process it was amazing.
Pooja: We are really excited. We just can't wait to be back home and start the process. It will take couple of weeks for the Devi to be here as part of the shipping process. I can't wait.
Nitin and Pooja Seth, US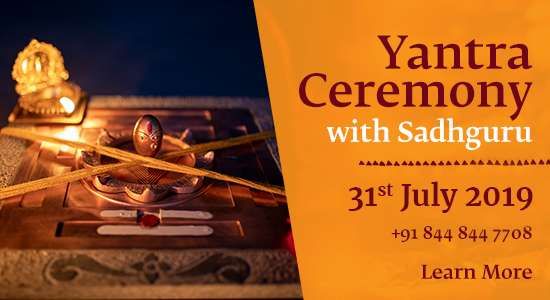 Editor's note: The next Yantra Ceremony will be held at Isha Yoga Center on July 31, 2019. You will be initiated into a powerful process and receive the Yantra in Sadhguru's presence. For more details, click here or call 844 844 7708.