Bienvenue à Paris! Sadhguru in Paris – October 2015
Paris played host to Sadhguru in October, when he made a short visit to give a public talk and speak at the roundtable conference organized by the Yves Rocher Foundation.
Paris played host to Sadhguru in October, when he made a short visit to attend a few events. On October 12, Sadhguru gave a public talk at the Theatre de la Porte Saint-Martin, which was attended by over 1000 people. This was Sadhguru's first public talk in Paris, supported by the Indian Embassy in France, and included simultaneous translation into French, a first for one of Sadhguru's events in Europe.
A volunteer, one of about 60, shares about the event:
"Sounds of Isha opened the evening with a 45-minute performance. Singing in several languages and playing everything from banjo to sitar, they soon had the audience clapping along, and even the ushers had a little boogie as they escorted people in.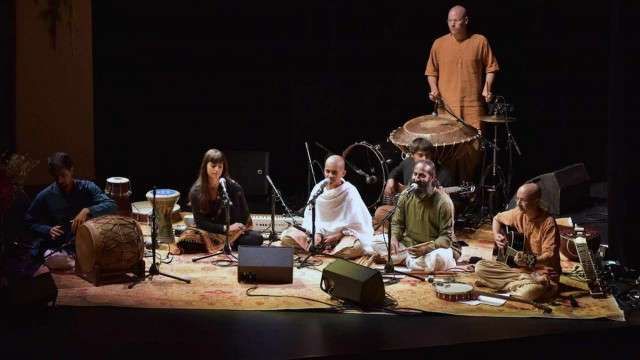 Despite the huge crowd, the atmosphere in the theatre was very personal. Sadhguru found a way to connect with people on an individual basis: 'There's no such thing as a world. There's only you and me. Sorry I cannot speak in the language you are most comfortable with. But after some time, language will not matter. Just be with me.'
From interviews with people on their way in and out, it appears that many people are already using Isha tools. Some have watched Sadhguru on YouTube, and have learnt Isha Kriya. For others, hatha yoga was their first introduction to Sadhguru. The hatha yoga practices are currently being taught by 25 teachers in 10 European countries, in local languages, including French (in France and Switzerland). When the current batch of trainees graduates, there will be 46 teachers, active in 13 countries.
Get weekly updates on the latest blogs via newsletters right in your mailbox.
I sat next to Marco, a young Portuguese man, who discovered Sadhguru through his local hatha yoga teacher. He said the class had been his first experience of yoga, and it was 'the right tool at the right time'. He enjoyed Sadhguru's insightful videos that were part of the programs. Practicing yoga has brought him remarkable and unexpected benefits, in terms of his physical, emotional and mental wellbeing, which motivate him to maintain his daily practice of Surya Kriya and asanas. One example he gave was being able to give up coffee effortlessly, something he had tried – and failed – to do several times before. Other people I spoke to mentioned aspects such as the new intensity of life: 'living a month in a weekend' or being able to focus better.
Their teary eyes as people left the theatre were evidence of how moved they were by being in Sadhguru's presence. They are motivated to continue on the path. As Sadhguru said in the volunteer sathsang, there is no particular qualification or capability needed to attain. All you need is to not keep changing direction.
In the volunteer sathsang, Sadhguru announced that he is ready to invest his energies to create a consecrated space for Europe. Even as we clapped, he warned us, 'You won't have time to clap. You will be too busy!'"
Sadhguru at the Yves Rocher Summit
On the 12th and 13th of October, Sadhguru was the guest of honor at a summit in Paris, organized by the Yves Rocher Foundation (YR). The summit is in celebration of YR having planted 50 million trees so far. Sadhguru was the key speaker at the roundtable conference and also conducted a meditation session for 400 people. The group included UN delegates, French media persons and representatives of NGOs from 27 countries that YR has partnered with.
Together, Project GreenHands (PGH) and the Yves Rocher Foundation have planted over 15 million trees. The Yves Rocher group is PGH's single largest sponsor. The relationship works the other way too, with PGH being Yves Rocher's single largest partner.
What will the outcome of all this activity be? Only time will tell, but the following anecdote could give us some hints. A volunteer who accompanied Sadhguru on his 2002 visit to Paris recalls how one day, Sadhguru wanted to try the Paris metro. Once inside the train, she commented to him that commuters don't smile. He replied: "Wait 5 minutes and they'll laugh, not just smile". Indeed, 5 minutes later, the carriage in which they were standing was lit up by laughter and radiant smiles! She had never seen such a huge contrast!
Editor's Note: For more info on Sadhguru's programs and public talks, visit Sadhguru's schedule page and follow him on twitter.