The Bicycle Yogis: Offering Free Yoga To 18,000 Rural School Children
Let's take a ride down memory lane as the Bicycle Yogis take us through some of their favorite memories from their busiest month yet - meeting a blissed out watchman, teaching deaf children, riding along Cauvery – and much more!
Three Isha Hatha Yoga teachers, as part of their initiative "Bicycle Yogis," have set forth on an 6500 km journey from Kanyakumari to the Himalayas to offer classical Yoga to children in villages - on bicycles!
Yoga for Deaf Children
"On our bicycle adventure we got an opportunity to teach Yoga at a school for deaf students in Dharmapuri. The entire class was translated in sign language by a facilitator, whilst Ajay was teaching in Tamil. It was inspiring to see just how quickly the 97 kids picked up these practices, and it was a reminder that Yoga is for everyone, regardless of our limitations. 
"We also planted trees in support of Cauvery Calling, which was a unique experience because it was all silent (except for some brisk hand gestures), when usually with kids there's a lot of noise and talking. We felt that because of being in silence, the kids were able to observe and appreciate Mother Earth and the life that thrives beneath the surface. From ants, worms, spiders, insects, and even scary, alien-looking bugs. The kids were intrigued by all the life forms they discovered in the soil." 
We Ran Into Isha Volunteers from the 1990s!
"Arriving in the dark to Namakkal, to our surprise there were 10-15 volunteers standing at the entrance to welcome us with lotus flowers. It was very touching – we had never experienced people greeting us like this before. We went inside to sit in the Sannidhi space, which was consecrated by Sadhguru himself. We came to know that they were volunteers who were with Sadhguru in the early 1990s when it all began. 
We had no idea what was waiting for us once we reached Namakkal. A big group of volunteers met us with folded hands, lotus flowers and the warmest welcomes. We almost couldn't believe it. Among them was this girl with her pet squirrel Simba.#Isha #Volunteers #squirrel pic.twitter.com/uRvGVOp6DO

— Bicycle Yogis (@BicycleYogis) November 23, 2019
"Stories were told from the days when the volunteers used to call Sadhguru 'Jaggi,' and how at night they all used to gather and Sadhguru would sing songs for everyone, and how he used to endlessly crack jokes on everyone. 
"We immediately connected with everyone, and felt well looked after. The initial plan was to stay for two days, but looking at the interest and huge support, we ended up staying for eight days and teaching at eight different schools for 3,606 students. Since we had so many sessions and couldn't reach everywhere on bicycles, they would come and pick us up and drop us off at schools. We could reach so many more children when having this level of support from the Isha volunteers. They even cooked and brought food to us at the schools, and we were invited into peoples' homes every single day. 
"The volunteers said that they were deeply touched to see Sadhguru's work being taken care of by the next generation." 
The Blissed-Out Night Watchman
When you think of a night watchman, what comes to mind? 
Usually a grumpy, unfriendly character lurking in the shadows at night, protecting an empty building from intruders. Or if you have been watching too many movies, perhaps someone wearing armor, a black cape and wielding a battle axe or at least handcuffs and a baton.
Well, not in the Bicycle Yogis' experience.
"We got lucky in Salem. After teaching classes we stayed in the Linga Bhairavi temple and were greeted by a completely blissed out watchman. He greeted us with Namaskar and gave us a laddu as an offering, which was a wonderful surprise. Such a gentle and sweet man! It was as if he was soaked in Devi's grace from what seemed like utter, blissful devotion."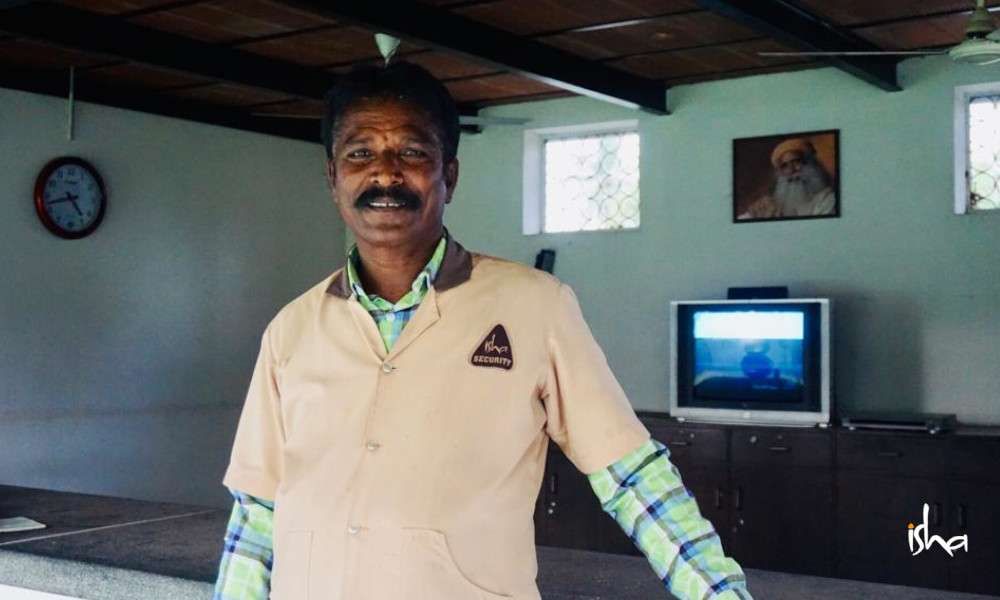 Cauvery Sunset
"During the 35 km uphill ride into Namakkal I was getting very tired, but suddenly we saw this huge bridge and a big river gushing underneath. Mother Cauvery herself, in all her glory come to save us when we needed her the most. There were volunteers waiting for us at Namakkal – but how could we not take a quick dip at sunset? It was such an amazing experience, and being immersed in her cooling waters reinforced just how important it is to help revitalize Cauvery and build awareness by planting saplings with the school kids that we are teaching."
As we neared Namakkal we suddenly came upon a big bridge leading us across a huge river. Who other than Cauvery? What a sight and surprise!

And of course, even though we were short on time, we had to take a dip. Cause how can we resist when Cauvery is Calling?#CauveryCalling pic.twitter.com/kFRy1ux8ah

— Bicycle Yogis (@BicycleYogis) November 22, 2019
Budding Future Yogis
"In Karur, we had the joyful experience of taking a class for really small kids. They were overly cute and adorable, and Annie couldn't stop smiling throughout the whole class! The kids were getting confused with the instructions, as to which hand was right and which was left. So to simplify it for them, Annie turned in their direction as if she was a student in the class and they followed along. It was a very adorable experience."
Ashram Food at Last
After weeks of challenging their stomachs on the road, the Bicycle Yogis had a stroke of luck when finding an Ashram style yogi restaurant in Karur. 
Get weekly updates on the latest blogs via newsletters right in your mailbox.
"When we arrived at Karur we found this restaurant called Nallan, which was a great find! They served proper pranic food like ragi dosa, all kinds of millets, without onion, tamarind, chili or garlic. It tasted like home cooked food and was cooked with love, taking us back to our Hatha Yoga Teacher Training days. 
"The people working there were so sweet; they were volunteers from an Ashram in Chennai. When it came time to leave, they gifted us with sandalwood and a book. It's a delight to meet people like this on the road. There was a certain connection that got established, because after eating there only once, we didn't go anywhere else. We returned there twice a day for every single meal. The food made us wish we could have stayed longer." 
Rocky Ground
What do the Bicycle Yogis do when they arrive at a school and realize that the school doesn't have any flat surfaces where the kids can sit comfortably? Teach at a local temple of course. 
"In Namakkal, a school principal got permission from the temple next door for us to teach a class there. All the kids came to the temple, and we set up the audio system and table on the mandapam. That was something special; we had never taken a class in a temple before. So many kids - and they were the type who would normally move around a lot - but they settled in quietly which was beautiful to see, and they were all touched by the experience."
Namakkal 1. class
Once we reached the school we were informed that the grounds were too uneven for a class, but there was a plan B. To move everyone to the next door temple, and wow what an experience. I think everyone felt it, such an auspicious thing@PMOIndia @SadhguruJV #Isha pic.twitter.com/IMvzKq041g

— Bicycle Yogis (@BicycleYogis) November 25, 2019
Amavasya Pedal to the Metal
"In what felt like 3 days in 1, we definitely needed the extra energy boost from this auspicious new moon day. We squeezed in 8 Yoga classes with about 1,000 students whilst in Kaveripattinam. I won't lie, the day had its challenges. In one class a translator initially only repeated what I said in English, which left the Tamil kids confused. But we turned it around quickly. In another class where I had to demo, there was no proper table; so I improvised and sat on a downward (backward) inclining desk - which the students thought was very funny – but it worked. Despite the mishaps, the Yoga was well received. We won the kids over with cute selfie smiles all around!"
Temple Time
After a full day of classes, Amavasya wouldn't be complete without a temple run. 
"We visited a nearby 1,100 year old Shiva temple on the banks of a river that felt like a Theerthakund. The temple had us so blissed out that instead of going for dinner on time, we ended up having to visit 'just one more, and then one more.' We went to every temple that was open, mostly Shiva temples, and one Vishnu temple where the devotees were very caring and welcomed us warmly. We ended the night with some delicious homemade chapatis before calling it a night at 11:30 PM." 
Our Largest Class Yet
"At one school in Namakkal, the principal is a meditator and has been with Isha since 1997. We taught our largest class at his school, to a whopping 1,460 students. It was unbelievable to see an ocean of children sitting quietly together meditating and doing Yoga practices. The energy was different for sure! 
A Beautiful Reminder
"Along the way, we were joined by our dear friend and Kannada Hatha Yoga teacher Varun. He was only with us for a week, but one morning I woke up and read this beautiful poem he wrote for us. It was a reminder of all the beautiful things that can happen as a result of us simply doing something we enjoy. Even though it's a little crazy." 
To Be a Bicycle Yogi
Varun: A small and simple poem that came to me as I reflected upon the happenings of the past week.
A Day in Our Life
"Follow us on our biggest ride yet, where we bicycle 75 km from Madurai to Dindigal in search for schools along the way where we can teach a Yoga class." 
The Progress
The team is doing really well, having finished Tamil Nadu and Karnataka, and next visit the small village of Lepakshi in Andhra Pradesh. They plan to complete Andhra Pradesh in January and venture 800km through Telugu speaking territory. Here are the tentative dates for their upcoming itinerary. If you have contacts in or around these places for free classes in schools, orphanages, etc., please contact the Bicycle Yogis at the e-mail provided below. 
Don't miss out as we follow the pan-India journey of the Bicycle Yogis in this new series. It's sure to be "wheelie" fun! Any schools interested in hosting the Bicycle Yogis can email them at thebicycleyogis@gmail.com
For more frequent updates, find the Bicycle Yogis on Facebook, Instagram, Twitter.
Editor's Note: Inspired to become an Isha Hatha Yoga teacher? For more information, visit www.isha.sadhguru.org/HYTT or mail info@ishahathayoga.com.