Sadhanapada 2020 Begins!
Sadhanapada 2020 begins in small batches. With the COVID-19 pandemic still on, no stone is left unturned to ensure that participants have a safe and healthy 7 months, fully focused on self-transformation. Let's hear what they have to say…
A new batch of Sadhanapada has started and we took the opportunity to talk to the participants. The first group of participants consists of those who had planned and arrived in Jan-Feb to get a taste of Isha Yoga Center before joining Sadhanapada. However, one tiny little virus turned things upside down! After spending the entire duration of the lockdown period in this sacred space, one thing's for sure – they are ready for Sadhanapada 2020!
What were your first impressions of the Isha Yoga Center?
Amar: "Felt like the only hope to connect with my cultural roots."
Swapnil: "It was nothing like I had seen before - Beautiful, Serene and Vibrant."
Keyur: "Such a vast place! So still, calm & peaceful!" 
What excites you most about your upcoming Sadhanapada journey?
Amar: "The orientation was surprising and my seva is in the electrical department. I know nothing about it and looking forward to learn many new things."
Ishaat: "The fact that at the end of it all, I will have balance, clarity and intensity. What else is needed to navigate effortlessly through this life!"
Avinash: "Wonderful opportunity to overhaul body and mind and set the right course for the rest of my life."
How has the COVID-19 pandemic changed your perspective about what's important in life? 
Amar: "Being in the Yoga Center I never felt the pandemic. I had already made up my mind last year that without Yoga, my journey will be directionless."
Ishaat: "The Corona pandemic confirmed to me what I already knew. That life is not just about our jobs, finances, families and social situations. These are all accessories to life. The real life is vulnerable even to a tiny little virus that we cannot see. And Isha Yoga Centre is the safest Haven to be in. Thank you IYC! Thank you Sadhguru!!!"
Amit: "It has made me focus on the existential reality rather than social and psychological drama."
Get weekly updates on the latest blogs via newsletters right in your mailbox.
Keyur: "It changed my perspective about hygiene & cleanliness, I became more aware about it. Most importantly it reminded me about how my life is mortal and it can end at any moment. This also increased my awareness about what is more important to invest my life in and where I should not waste this precious time of my life." 
What were your top priorities in life before Coronavirus and have they changed now?
Pankaj: "Earning money and going for a world tour to be happy, doing adventure and making everyone's life joyful - all these things because I want to feel great and joyful. But now I can say that just looking at the sky is a wonderful experience. Just a breeze is making me laugh like this is all I want. When it is raining, I am dancing like a child. For me, whatever I am looking at outside is inside me."
Amar: "Actually I had no goals, but was curious about the past success of our culture in the rest of the world. Corona has definitely strengthened the importance of Yoga in my life."
Ishaat: "My priorities were and are the same before and after Corona. I wanted to read the user's manual (as Sadhguru says) and explore myself to the fullest possibility. The pandemic has just cemented what I wanted. It helped me to stay at the Yoga Center and focus, as this was the best thing to do!"
Hithendra: "My priority was to master the body and mind and put them to use in the best possible way for Nation building. India was my top priority in life. Now also it is the same but in a completely different way. Now, my top priority is to dissolve."
Keyur: "Before Corona, sometime doubts would come into my mind whether is it the right time to get into spirituality, will I be able to sustain in this place, or should I try some more things in my life with the tools given by Sadhguru. But after Corona, I am sure that there is no more time in life to waste in trying anything else and this is what I should do, whatever difficulties may come." 
How do you think Sadhanapada can equip you to face upcoming uncertainties and challenges?
Pankaj: "Being joyful in whatever I am doing is the best thing I got within these 3 weeks of being here, so whatever the situation, I will face it joyfully."
Nishanth: "It brings balance and discipline to face any challenges in uncertain times."
Amar: "I hope to be more meditative than before. A healthy body and happy mind is all that's needed to deal with the world. I can clearly see improvement in my body and hardly a moment of stress in my mind after the Sadhanapada orientation."
Santhosh: "More sadhana will hopefully make this barrier of mind and body more flexible and transparent."
Keyur: "It is teaching me a lot of things like how to manage time and how to decide my priorities, what is important and what is not needed. I am not wasting my time in useless things which I used to do earlier, but now the schedule is so tight that even if I wish to do those things, there is no time! It is giving me a good feeling from inside that I am using every minute of my day to enhance my life."
If you were at home instead of the Yoga Center during this period, would you have made use of this time in the same way and focus on your wellbeing? 
Amar: "Not at all, it would have been frustrating. The Presence of Sadhguru has made a big difference and brought focus on myself."
Swapnil: "Nowhere near to how I have been using my time here and the way I am being guided here. The place itself makes a huge difference but also all other aspects like food and sadhana would be different back at home. So I definitely feel blessed to be here in such a beautiful and vibrant place at this moment in time."
Abhishek: "No, I would've been lazy! Sadhanapada gives me the Seva and Sadhana needed and provides me the ecosystem to give my all and takes away distractions."
Swarna Latha: "No, not at all! I would be busy thinking of the variety of food I can cook, watching videos, oversleeping and I would have put on at least 5 kgs extra weight." 
What does it mean to you to have "made it" for this year's Sadhanapada program, with so many people outside who are unable to come?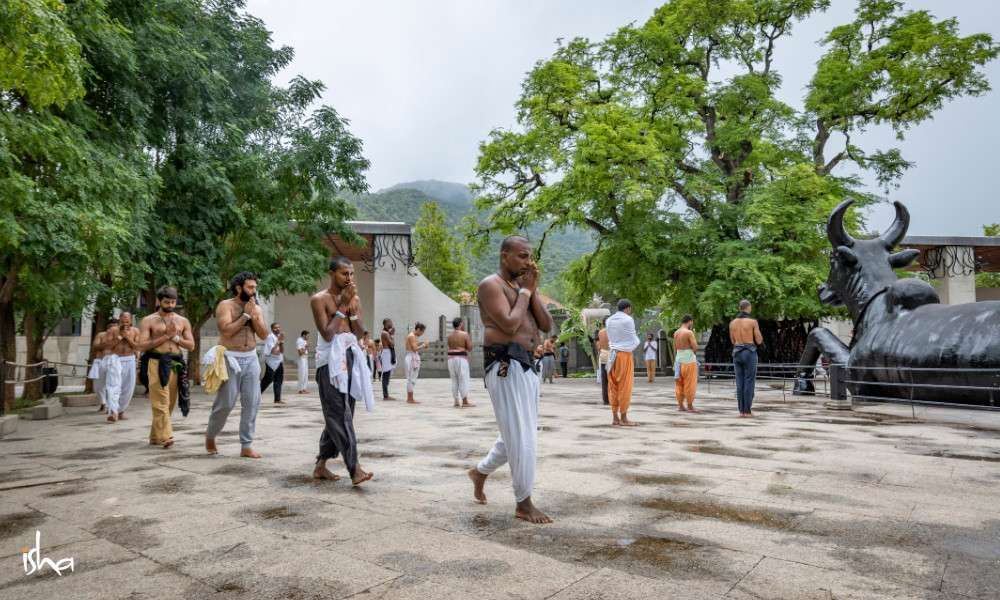 Prashant: "It means a lot to me, and it's a turning point in my life. I wish all those who are outside make use of this when this Corona situation comes to normal."
Amar: "Very fortunate. Feels like 'When you really desire something from the heart and soul, all the universe conspires to help you achieve it.' I really wish other participants get an opportunity to join this year's Sadhanapada soon."
Swarna Latha: "I feel very fortunate. I thought that I did not get approved but on the day of the orientation I got a message: 'congrats and pack your luggage.' After seeing the confirmation message, I was ecstatic and there were tears flowing from my eyes."
Ishaat: "I feel terribly bad for everyone who is stuck outside and couldn't make it. Some of them I know personally as we had volunteered together before. I feel extremely lucky to have been here. I am thrilled to be a part of Sadhanapada 2020!"
Abhishek: "I really gave it my all and risked everything - career, social life, family situation, finances - and this happened. Glad I listened to the longing within me and came. We must allow what is within us to unfold or forever live a constipated existence."
Prashant: "Feel so happy that I have made it! When I landed here on 24 Dec 2019, I was not sure if I would get selected. Later when I got selected, I was not sure how many participants would actually make it and if the program will actually begin. But when it actually started, I felt so empowered and charged!"
Swapnil: "This means the world to me. I consider myself extremely fortunate and blessed to be this year's Sadhanapada participant. I cannot imagine myself in any place other than here in this moment. Could not get any better than this. I want to express my heartfelt gratitude to Sadhguru for offering us this opportunity of self-transformation." 
Editor's Note: Find out more about Sadhanapada and express interest for the upcoming program here.