Find out how one warm-hearted biker braved the Himalayan cold to spread the word about Rally for Rivers to even the remotest regions of India
---
On 15th August 2017, when he went to participate in an independence day bike rally, Siraj Mirza, a biker from Lucknow, heard about Sadhguru and the Rally for Rivers for the first time. Call it a karmic connection or instant attraction, but the man was hooked. From then on, he started following "guruji" as he fondly refers to Sadhguru, and he started poring over his discourses online. Little did he know, a seed that was set to germinate quite soon had already been sown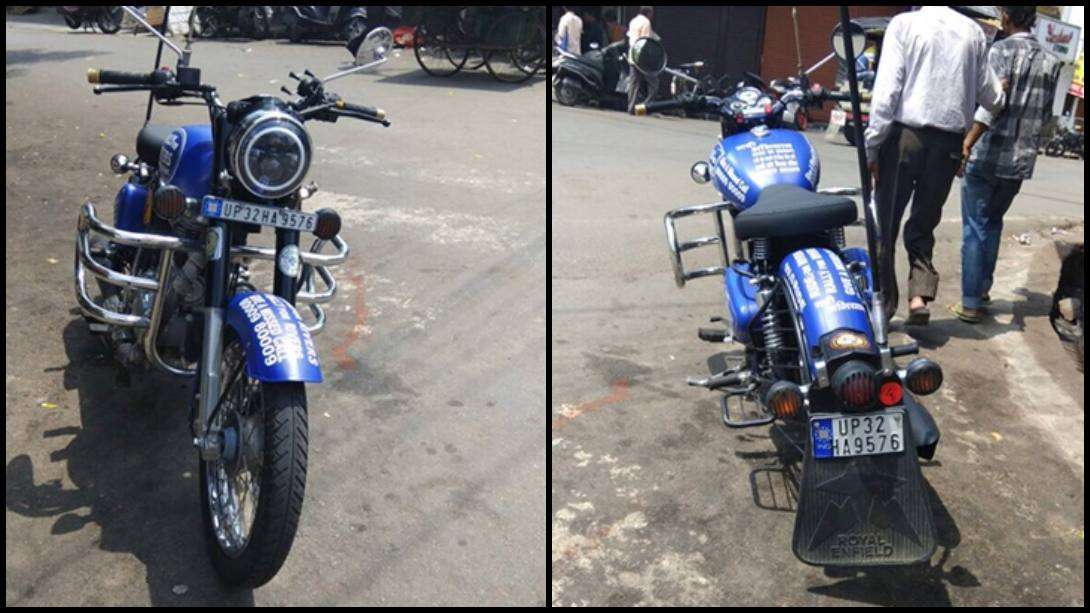 3rd September 2017, the date of the Rally for Rivers kick-off, provided the stimulus for this enthusiastic 46-year-old biker who is also a social activist, having done many awareness rides previously. But even for him, this was different. For the first time, with no prior planning or preparation, in just a matter of 2 days, he made up his mind and set off on a solo 5000 km bike rally towards the northernmost part of the sub-continent – Ladakh – to raise awareness about the state of our rivers. On the 4th of September, Siraj took his bike to the workshop to get it dressed up in blue and ready to rally!
He had originally planned to go on a biking trip from Lucknow to Ladakh only four years later since, for the next four years, the fasting month of Ramadan would fall in June, thereby hindering his visit during the season for Ladakh. Unyielding to concerned advice from fellow riding club mates urging him not to go, as the weather conditions would be unfavorable, an impassioned Siraj started on his trip anyway on the 6th of September. He was determined to complete the journey, a "Himalayan" task in every sense of the word, in under 15 days. Oh, and he did, but this was not even the highlight!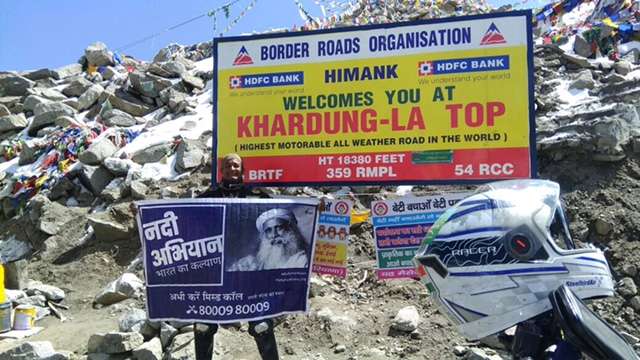 At one point, in Sarchu, he recounted merrily that the water in his glass had turned to ice. He braved and blazed through sub-zero weather conditions with only one thing on his mind – to rally for rivers and to deliver this message to the remotest parts of the country. Along the way, he gathered thousands of missed calls as well as good wishes. This encouragement propelled him literally to the very edge of the country, up to Turtuk, the last village of Ladakh, in Nubra valley on the Indo-Pak border. He even did not spare one of the highest "motorable" passes in the world, Khardung-la, which, as suspected, was not so motorable after all due to the weather conditions. He was stranded at one point, but by grace, was helped out by some passing truck drivers.
After his return on the 21st of September, Isha volunteers met Siraj, who had come to attend the Lucknow Rally for Rivers event on the 26th. The unassuming person that he was, he simply remarked "Sab Guruji ki aashirwad", meaning "All Guruji's blessings", with no inkling of the massive undertaking he had just accomplished. Gratitude – Check! Inspiration – Double-check!!
---
Editor's Note: You can play your own role in supporting Rally for Rivers with just a missed call to 80009 80009! Learn more at RallyForRivers.org