June 12th, Waghadi Nadi Punarjeevan Prakalp (RfR Maharashtra) Kick- off Meeting at Collector's Office, Yavatmal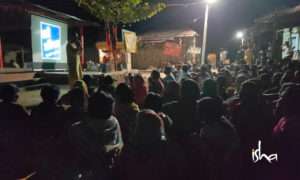 List of Dignitaries:
Shri S B Mahindrakar, Additional Collector
Shri N. M. Kolapkar, Superintendent Agriculture Officer
Shri B N Pingale, Deputy Conservator of Forests
Shri Yadgilwar, Agricultural Scientist, Agricultural College Yavatmal
Shri Kishor Damah, Executive Engineer, Irrigation Dept
Shri Shailesh Kale, Tahsildar Yavatmal
Sau. Puja Matode, Tahsildar Ghatanji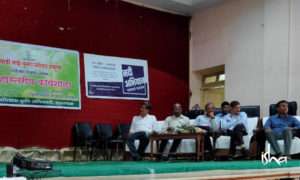 On June 12, the first official meeting for the project began with government dignitaries, Nadi Veeras, and others in attendance. Agricultural Scientist, Dr. Yadgilwar started addressing the meeting by sharing the profound importance of the water element on the planet. He added that although this call to action is late in the day, at least Sadhguru gave the vision for this noble work and started RfR. As well, he stressed the economic benefits of planting trees such as bamboo, etc. and gave a brief introduction to the concept of agroforestry. He requested forest officials to work hard, as he made note that 1/4th of land along the river is forest land.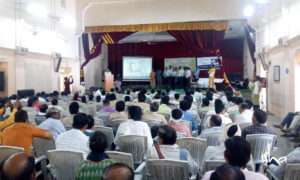 He also requested the audience to plant a minimum of two trees per family, even ten if possible. Later he explained the importance of growing fruit trees on the farm lands. He said, it's like a fixed deposit investment in the bank if you have a fruit forest on your agricultural land. He further added that through tree plantation, a phenomenon like el-Niño, which causes disasters on the planet, can be avoided. Then, he spoke about the importance of the traditional cropping pattern timeline, and how it's been disturbed due to climate change. He continued that farmlands must be managed by all farmers, universities, government departments, and volunteers. He said the highlight of the project so far has been the combination of all interventions, with the yoga programs and games, which he believes will gradually raise the consciousness of the rural population. As a yoga teacher, himself, he requested that Isha Foundation provide Inner Engineering courses for the government departments, also.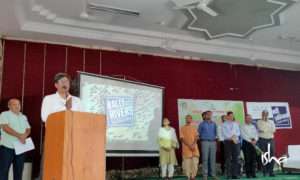 In his speech, Deputy Conservator of Forests, B N Pingale said that the rivers are like the veins of earth. He never imagined that we would buy water in bottles as we are doing today. He praised Rally for Rivers as a platform given to us by Sadhguru and made clear that it's up to us how we make use of it. He added that "the volunteers here may not be having deep technical knowledge, but the commitment and mindset they have brought here to work is more important." He also gave assurance that the forest department is ready to provide technical expertise. He stressed on how to handle wildlife problems, also. Finally, he said that there are enough government schemes, so we can think about taking it to people on the ground immediately, even before the Special Purpose Vehicle is established to supervise the project.
Superintendent Agriculture Officer, N M Kolapkar closed the session on a high note by appreciating Isha Foundation, as it is working for the environment and society.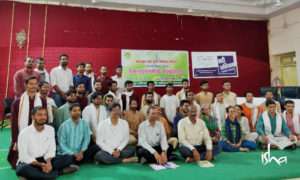 What Will the Nadi Veeras Be Up To Now?
From June 19th, Nadi Veeras have begun sitting down with sarpanches and lead influencers, and they are gathering information for key entry point activities that will help build rapport with the villages. As a part of this endeavor, they are developing their understanding of all of the farmers' needs and circumstances that are relevant to the project. These include the enhancement of the water supply, storage structures for water, wildlife attacks, access to the government schemes, and tree plantations utilized to address the nutritional needs of the community, and taking the help of the local government to get these issues addressed. Meanwhile, they continue to conduct yoga and games as activities to mobilize the community.