As we continue the series, "Know Your Nadi Veera," read how Dakshayini Das is using her academic skills to conserve the rivers of Assam.
A Change in Psychology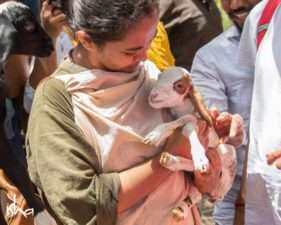 Dakshayini Das: I am 23, born and brought up in Assam. A couple of years ago, I was studying Psychology Honors in Kolkata and was on the success track towards graduation, post-graduation, PhD, treating patients. That was the plan. Three years into my studies, I began lacking passion. I wasn't enjoying the monotony and was attending my classes more out of necessity than desire. Those days I used to be always on the metro from North Kolkata to South Kolkata, studying, teaching, and travelling with different halts from 8 am to 10 pm.
I became acquainted with Sadhguru through a friend, who told me I should start listening to him. "He's a very good writer, he's a biker, he's a pilot," he said. "He drove this rally, took a successful tour all over India." My friend told me to read Inner Engineering. It intrigued me, and I wondered, "Who is this man? How is he so successful in these matters?" I had never seen a public figure, in my point of view, who was so successful in all areas of life.
Reading a Book on the Metro
I started reading the Inner Engineering book during my daily metro travels. I used to read one page, two pages, three pages in between giving homework to my students. Every time I used to read this book, it would make sense to me. Simple things: the way you drink water, the way you observe your breath, the way you observe the surroundings – how you are the problem, not the outer world. So, these things were never told to me, by anyone, not even my parents. They were always concerned about how I would do in the outer world. How I would earn money. How I scored 91, and why I did not score 95.
I have learned from this guru, from this book, those basic things I didn't know at all. I started reading this book on June 2017 and finished reading it in August 2017. After reading it, I was curious. I wanted to know more. Somewhere he had mentioned about his ashram. "I have to visit this place, where he actually lives" – this thought was forming in my mind.
Mosquito River
On the Kolkata metro, if you looked down, you would see a drainage, where there was a terrible mosquito problem. This drainage comes from the Ganga River. Long before, it was a very fluid river. Due to the metro structure, there is a blockage in the river. It is contaminated to such an extent that you can see mosquito eggs there, bubbling. At that time, I started thinking of imaginary letters I could write to the municipal corporation attempting to deal with such pollution problems. The activist in me began to awaken. It was at this time that Sadhguru was doing the Rally for Rivers tour. It was beginning to overwhelm me, the extent of these ecological issues.
I started feeling an urgency to do something. I used to stand near the drain, where the very dirty water would be flowing, and wonder what can I do to help clean this up?
A River Like an Ocean
I was born and brought up near Brahmaputra in Assam. I have seen that river in a full-fledged manner, rising in the flood season so that it looks like an ocean, where you can't see the other side. After seeing that kind of river, and then coming to an urban landscape and seeing the condition of the Ganga, it seemed very unfortunate to me that in this generation, I'm getting to glimpse such a decline. It's alarming. People are carelessly littering into the water; they have no consciousness of what they are doing.
I was born in a place where trees were always there. My school road was lined with almost 300 Banyan trees, and the opposite side is the Brahmaputra River flowing like anything. After seeing such a sight, for a small-town girl like me coming to the city to study, pollution is a really big thing. How a situation could come to this state, where people have no way of being accountable…
Awakening Activism
City life also keeps people so busy they don't have time to address the problems. There's a disconnect because from morning until the end of the day, people are focused on how to earn money and get by. They might go to Sundarbans or some other natural destination for a vacation, but there is no sensibility of taking care of the environment that is their own backyard.
I wanted to separate myself from this cycle, but at the time I saw myself also perpetuating it. I didn't want to be the same person in the crowd. I wanted to make a difference. So, I was searching for a way to make this difference happen. I didn't know about Project GreenHands. I didn't know about the Isha Agroforestry Movement. I didn't know Sadhguru was doing so much related to rivers and green cover. But at this point in my life when I began to have this striving within me, Sadhguru was starting a movement. The Bharatam chant that was the rallying cry gave me goosebumps. I didn't understand how one person could be responsible for leading such a movement so successfully and make it happen.
A Call for 100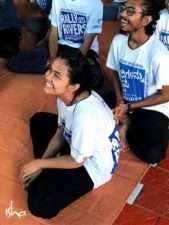 I remember the very day Sadhguru called for the youth to come and help save India's rivers. Echoing Swami Vivekananda, he said, "Give me 100 people who are truly committed, and I will change the face of this country." He was calling for a 100 people to do this, and I was in 100%. It was a live broadcast on YouTube, and I had been following him on tour to the minute. My tuitions, my studies were all taking a backseat to the energy of Sadhguru's vision. I knew that among those 100 people I would be there.
So I decided to take my savings from my tuitions and take 10 days and go to the ashram. I could only get a booking if I signed up for the Inner Engineering program, which is what I did. I had no resistance. The book made me so open to him and the program that I just registered. I don't know what is yoga. I don't know what is meditation. I just registered, by namesake alone, and I went, and basically, I didn't leave. I knew I was going to stay for my lifetime.
I got so lost in my volunteering activities that I completely forgot to use my phone.
Post Script: One Year Later
Through Rally for Rivers, I was able to find me. A person, a child who has never seen a proper guidance in her life. Some way or the other, I sensed I would get that guidance here. So, it's not just Rally for Rivers that is happening; it's also something that is happening inside me, a kind of transformation.
The initial month of our training was field-based. We learned hands-on about farming, fruit forests, ecosystems, water harvesting, soil and water conservation, and agroforestry, which brought the public policy to life. This training made me understand the importance of trees in reviving our rivers. The work slowly got intense as time passed. After understanding our rivers, we created 6 research teams for each of the states that signed an MoU.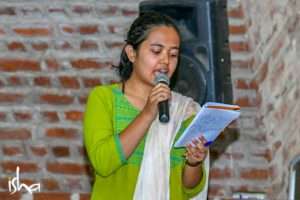 I was put onto the Assam team. Though it was my birthplace, I hardly knew anything about it. Researching and analyzing articles and reports was never my thing, but I didn't want a limitation in me to hold me back. Researching became a part of my life, because it was part of the work, to know the diversity of each state, the topography, agro-climatic zones, tree species, soil quality, soil type, rainfall, and watershed – it helped us to know the states in detail with their unique problems and possible solutions.
Volunteering for Rally for Rivers has never felt like work. We as a team have always been working together, finishing whatever work is needed for the time. As a Nadi Veera, we have grown in knowledge, and amongst each other we've grasped some underlying truth. We have understood that for change to happen in the country only planting trees will not do – this change will demand cooperation from every institution.
Though our hearts belong in the field planting trees, our major work happens in front of the desktop. But staying in constant touch with Mother Earth has never stopped. Recently I went through a nursery training, where most of the work was related to soil, manure, seeds, and saplings. We saw the plant life go from a dormant seed, to germination, and grow into a healthy sapling.
It amazed me that every tree has a different time to shed seeds and every species has its individual requirement of nutrients, soil, water and sunlight. Basically, we take care of saplings for 3 months so that they grow healthy wherever they are planted. And for the next 100 years, they will take care of us. This idea struck me so hard. A few years of care and nourishment and making the earth a greener place is not as hard as it looks. This idea will keep me going all my life. So, yes, when the earth turns out to be greener, I will be content that the miniscule work of ours towards this, has paid off. No qualification could have let me perform such a large spectrum of work and receive such immense satisfaction at the same time.