Rally for Rivers was awarded the 2018 National Water Award in the category of Best Educative/Mass Awareness Efforts. Hon'ble Union Minister of State in Ministry of Water Resources, River Development and Ganga Rejuvenation, Shri Arjun Ram Meghwal and Shri U P Singh, Union Water Resources Secretary, presented the award on 25 February 2019 at the Malvankar Auditorium in Constitution Club, New Delhi.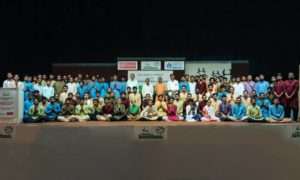 This is a recognition of all the volunteers & supporters who rallied for rivers to make revitalisation of our severely-depleting rivers a top priority for the nation to save India's lifelines.-Sg @nitin_gadkari @arjunrammeghwal @rallyforrivers #RallyforRivers #NationalWaterAwards pic.twitter.com/6IOZIl9BxZ

— Sadhguru (@SadhguruJV) February 27, 2019
RfR combined the use of traditional media, social media and on-ground campaigns to effectively spread its message about river revitalization. It enrolled business houses, civic organizations, media houses, the youth, farmers, celebrities, children, and leaders from across the political spectrum into the idea with its simple but compelling message to support the revival of "India's lifelines". With over 4000 media stories and an online reach of over 400 million, RfR generated over 4 billion impressions across mediums.

Editor's Note :Stay tuned to find out the next steps for the Rally for Rivers pilot project in Yavatmal. On March 5th, 2019 the Maharashtra cabinet officially approved the budget for project implementation on the Waghari River. The project will be progressing rapidly in the coming months. Learn more about how you can get involved at RallyforRivers.org/volunteer.