Maharashtra and Karnataka sign MoU with Isha Foundation for river revitalization
Maharashtra and Karnataka became the first two states to sign MoUs with Isha Foundation to take up massive afforestation drives in the water-stressed states that are fast losing their green cover.
While Maharashtra signed the MoU with Isha in July 2017, before the launch of the Rally for Rivers campaign, Karnataka's Chief Minister Siddaramaiah exchanged a copy of the MoU with Sadhguru when the Rally reached Bengaluru en route to its destination, Delhi.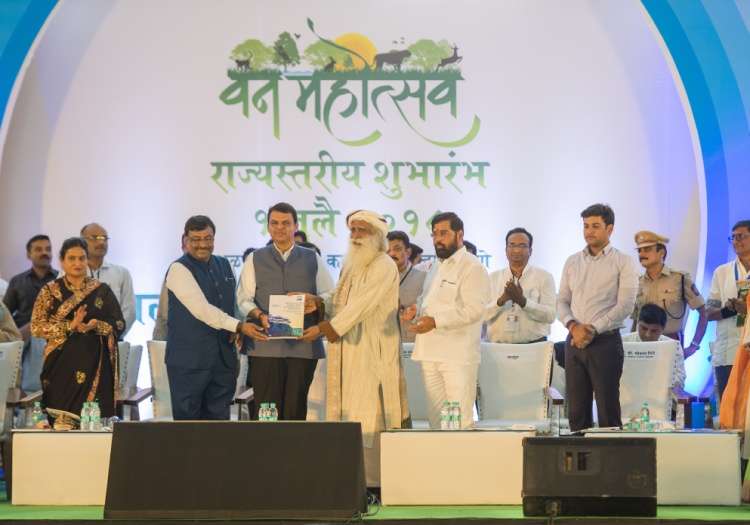 Maharashtra has agreed to plant 50 crore saplings by 2019 along river banks in a massive effort to reverse the effects of deforestation which has led to droughts, failing crops and large-scale farmer suicide in many of the state's water-stressed districts.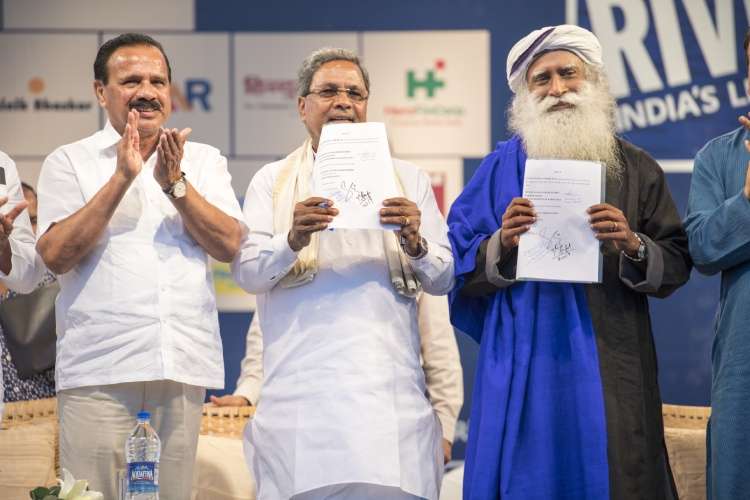 The Karnataka government will plant 25 crore saplings in designated areas around rivers. Like neighbouring Maharashtra, Karnataka too has witnessed erratic rain patterns causing floods, droughts, and crop failures. Farmer suicides across the state have been a major concern over many years caused by overdependence on unpredictable rains. Rampant sand mining from river beds and large-scale tree felling for infrastructure development have contributed to deteriorating water and soil quality.
"People who grow our food are committing suicide because they don't have enough to feed their children. Farmers can be happy only when soil and water are healthy. And this can happen only when rivers are healthy," said Sadhguru during his Rally for Rivers address in Bengaluru.
Gujarat and Punjab sign MoU with Isha Foundation
Following in the footsteps of Maharashtra and Karnataka, Gujarat and Punjab state governments signed MoUs with Isha Foundation in September 2017, to undertake afforestation drives in their states.
Maharashtra was the first state to sign an MoU with Isha in July 2017, before the launch of the Rally of Rivers campaign in September. On 9 September, when the Rally reached Bengaluru, the capital city of Karnataka, the state CM exchanged a signed copy of the MoU with Sadhguru at a public event.
Gujarat and Punjab are the latest entrants taking the total number of states who have signed MoUs with Isha Foundation, to four. On 20 September, at the Sabarmati riverfront, Sadhguru signed the MoU with the Gujarat government. Chief Minister Vijay Rupani assured Sadhguru of the state's support in revitalizing India's rivers. Punjab signed the MoU on 29 September when the Rally reached Chandigarh and was received by the Governors of Punjab and Haryana as well as the Haryana CM. According to the MoU, the state government will work with Isha Foundation towards ecological conservation in the state.
Throughout the Rally, Sadhguru has stressed on the importance of horticulture-based farming on riparian land, not only to revitalize rivers but also to improve farmers' income and enhance the nutritional standards of the country.
"Only 4 % of our population consume fruits. Our very own tropical fruit varieties are literally missing because nobody grows them. Through this campaign, I want India to return to those times when fruits formed at least 30% of our diets," said Sadhguru during his public address at the Sabarmati riverfront.
Chhattisgarh signs MoU with Isha Foundation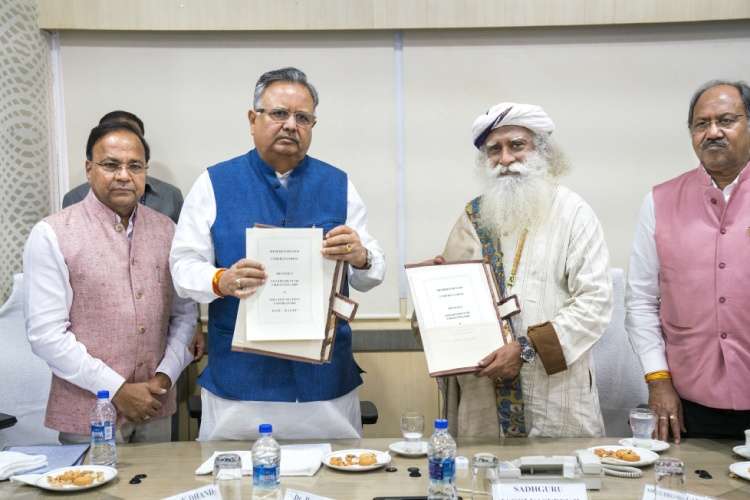 The Government of Chhattisgarh signed an MoU with Isha Foundation on 28 November 2018 agreeing to plant 10 crore saplings along the river banks of Chhattigarh's five main rivers in a bid to reverse ecological damage and restore riparian health in the state. The Chief Minister of Chhattisgarh and Sadhguru were present at the occasion. The MoU agrees to create indigenous vegetation in the riparian basins that will help to improve ground water levels. Tree roots enhance groundwater recharging capabilities allowing rivers to flow all year round and prevent soil erosion.
"It is our responsibility that we leave these rivers at least the way it was given to us by our previous generation to our next generation," said Sadhguru, adding that "Chhattisgarh is one of the very high rainfall receiving states and when such rainfall is there, holding it in our land and allowing it to flow 365 days is an important responsibility that we have."
Sadhguru said that nurturing fruit saplings requires building nurseries and developing human resources and remarked that this can become a tremendous opportunity for women, particularly rural women, to earn a livelihood. He said nurturing these saplings requires certain skills which are more commonly found in women because their hands are naturally tender and designed for nurturing life. "Our experience has taught that women are very good in this due to the tenderness of their hands," Sadhguru said.
Chhattisgarh became the fifth state to sign an MoU with Isha Foundation. Maharashtra and Karnataka were the first two states to sign MoUs followed by Gujarat and Punjab.
Assam becomes the 6th state to sign MoU with Isha Foundation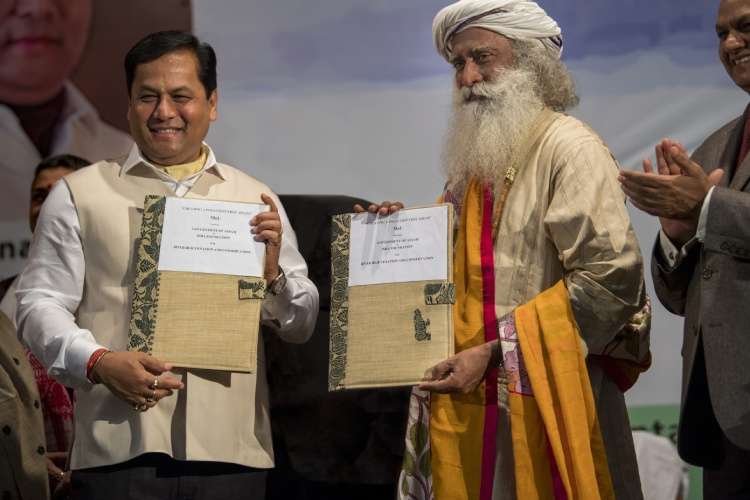 Assam became the 6th state to sign an MoU with Isha Foundation to accelerate the river revitalization efforts in the state. At an event in Srimanta Sankaradeva Kalakshetra on 18 December 2017, the Department of Environment and Forests, Government of Assam, signed an MoU with Isha Foundation in the presence of the Assam CM Sarbananda Sonowal and Sadhguru, founder of Isha Foundation.
"Assamese civilization has been spawned by the Brahmaputra and Barak and saving these great rivers is one of the prime objectives of the state government," said the Assam CM adding that soil erosion and deforestation have led to perennial flooding of rivers in the state. One of the objectives of the Namami Brahmaputra and Namami Barak festivals is to explore the possibility of creating navigation routes through the two major rivers of Assam. The Chief Minister hoped that the MoU with Isha Foundation would help the state address its problem of floods.
Stating that economic well-being must be embedded in ecologic protection, Sadhguru said that Assam was fortunate that its rivers were in spate while rivers in many parts of the country are dying. Flood mitigation is an important aspect of the Rally for Rivers policy recommendations.