At 26,000 ft on a Piper Malibu Aircraft
In this week's Spot, Sadhguru writes from a Piper Malibu aircraft about his recent travels: Paris, Cape Cod, New York and now to iii Tennessee. Enjoy!
A fter many years, I was in Paris for a few events. Though the trip arose as Yves Rocher Foundation, our partner in Project Greenhands, compelled me to be there for their event of completing the planting of 50 million trees, we ended up with many other events including a public evening talk for a packed house of a thousand people. Paris responded in a resounding manner in a very short run up time. Nearly 30% came from all over Europe.
Both Europe and China breaking through the language limitations is sucking me back into their fold.
Almost 8 years ago, I sort of decided to stick to English speaking countries as translation and navigation through non-English speaking countries takes a lot more time and effort. But now, with the very effervescent group of volunteers, being compelled to revisit the old resolve. Both Europe and China breaking through the language limitations is sucking me back into their fold.
Literally flying straight into the Robert F. Kennedy Foundation event in Cape Cod for their 26th anniversary. They are doing significant work in the 'Human Rights' arena. Above all they also have a delightful golf event attached. Well, well, hold your breath, our team won 3rd place in the tournament. Definitely not all of my doing.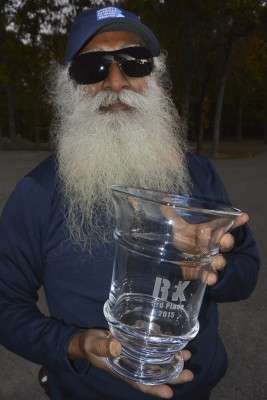 Sign Up for Monthly Updates from Isha
Summarized updates from Isha's monthly Magazine on Isha and Sadhguru available right in your mailbox.
Bharatiya Vidya Bhavan, for its 35th anniversary in New York, invited myself and Deepak Chopra to be in conversation moderated by Chandrika Tandon. India diaspora was present in full regalia. Deepak shared some of the work that he is involved with in the field of science and consciousness. Rest of the last 2 days simply cloistered up with book team for nearly 20 hours a day.
https://www.youtube.com/watch?v=WMhJgdpj1d0


Now on board a single engine Piper Malibu aircraft at 26000 feet – onward to iii Tennessee. Just a day at the ashram, now adorned with Adi Yogi abode and to Houston (1 day), San Francisco (2 days), iii (3 days), Detroit (1 day), New York (1 day), New Jersey and onto Mumbai. Sounding like a travel agent, ain't I?
Love & Blessings