With the Will of a Warrior, He Rallied for Our Rivers
A man with a heart of gold, on a bike of steel, traverses India from top-to-tip in just 11 days. Bravo!
A man with a heart of gold, on a bike of steel, traverses India from Khardung-la to Kanyakumari in just 11 days to Rally for Rivers
For Nidhesh Pareek from Jaipur, who didn't know anything about Isha Foundation or Sadhguru at the time, it was pure passion for the cause as soon as he heard about Rally for Rivers. Hailing from the desert state of Rajasthan, the cause was as close to his heart as could be. Deeply moved, he confided in his wife about this. Manju Pareek, who followed Sadhguru's talks on YouTube, acted as a catalyst to an already impassioned Nidhesh, and kindled in him the idea to embark on a solo bike rally. Like Arjuna who only saw the eye of the fish when he had to aim his arrow, Nidhesh could now think of nothing but the rally.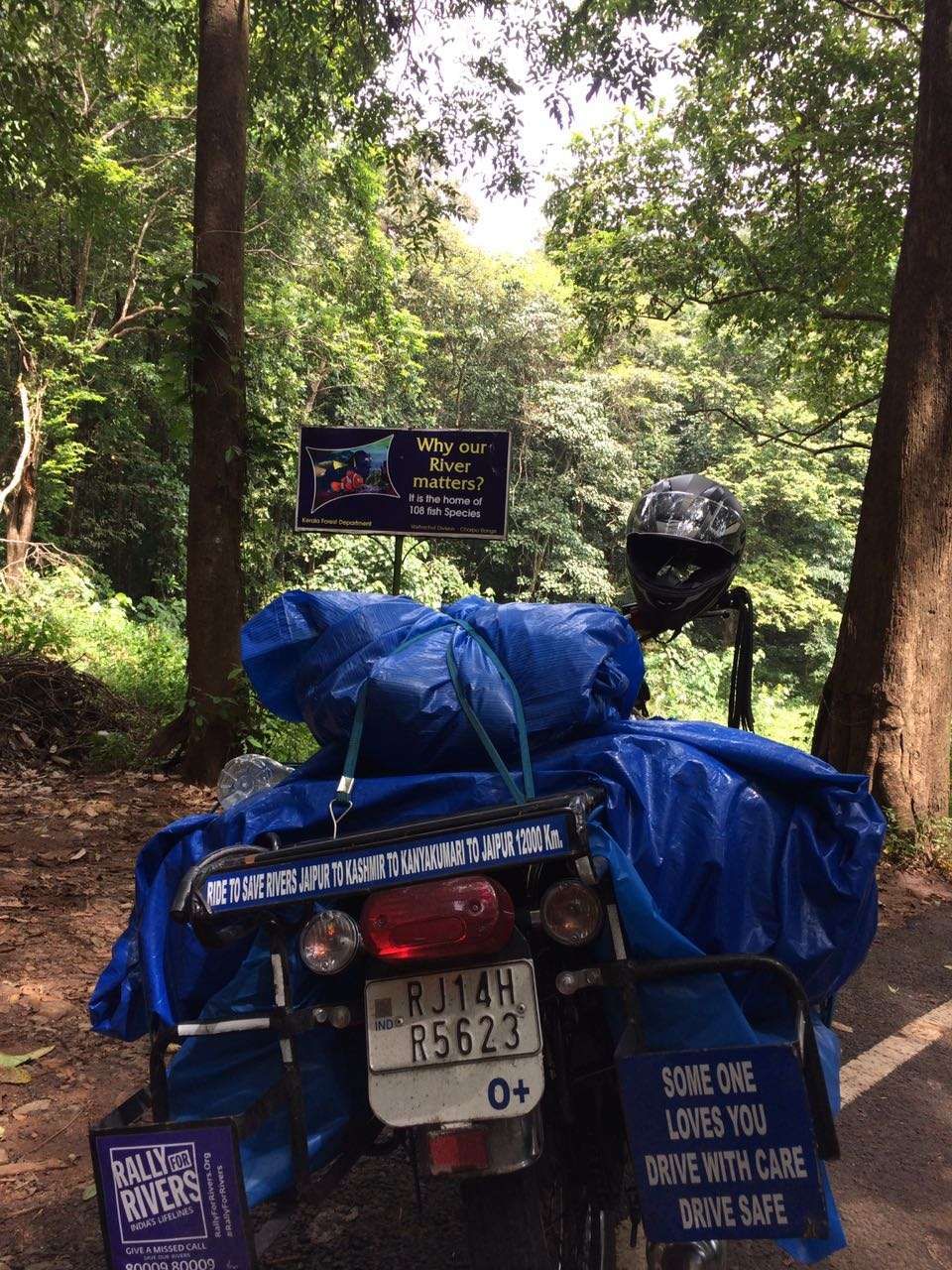 As a bike enthusiast and a member of one of the oldest vintage bike clubs - Convoy Control Club, whose members often ride long distances for social causes - Nidhesh decided to become Sadhguru's aide in this mission. He figured that by traveling by himself, and thereby having the agility that comes with flying solo, he could venture beyond the cities and cover more of the interiors of the country that the rally might not be able to reach. He started his journey from Jaipur on the 10th of September, armed with the love and encouragement of his family and propelled by the moral boost provided by his rider community and volunteers of Isha Foundation.
He first rode north towards Jammu and Kashmir, and upon reaching Khardung-la, one of the highest motorable passes in the world, started his descent towards the southern tip of the country. Reaching Chandigarh on the first day itself, he stopped briefly in Rohtak on the way, meeting municipal corporation members to explain the message of the rally. In Chandigarh, he met members of the Ecoriders club that had already begun tree-planting and watering drives. In Jammu, he was met by reporters who, for Nidhesh, were just another mode of disseminating the word of the campaign. En route to Khardung-la he stopped at a school and spoke to the teachers and students on the importance of the rally. He even met some community leaders and some more local reporters later.
Get weekly updates on the latest blogs via newsletters right in your mailbox.
On some of the treacherous routes up north, he was blessed to receive the guidance and moral backing of our soldiers, who have been ardent supporters of the rally from its inception. Once he reached Khardung-la, Nidhesh, already a messenger on a mission, decided to shift gears a notch up, as he wanted to reach Kanyakumari before the culmination of the rally on the 2nd of October. Literally pushing pedal to pulp, he made the dash from Khardung-la to Kanyakumari in an invigorating eleven days! Utterly inspired by the incidences of Sadhguru on the rally which he received from his rider friends from time-to-time, his will was only strengthened day by day.
The rider community's wholesome support ensured that Nidhesh had homes to stay in at most of his stops. They had also arranged for meetings with other riders to spread the cause. He sometimes paused at motels along the highway where he would rest for a few hours before sprinting off again at the break of dawn. He reached Kanyakumari on the 28th of September, well in time for the culmination of the rally. Here, he received a grand welcome from Isha volunteers who were only too overwhelmed by his marvelous feat. On his way back to Jaipur from Kanyakumari, he rode through Kerala before going to Coimbatore, where he halted at the Isha ashram. He fondly remembered the two-night stay at the ashram and visit to Adiyogi as one of the most memorable experiences of the entire rally.
Returning to Jaipur on the 12th of October after riding a phenomenal 11,200 km, Nidhesh came back richer in positive reinforcements and zeal. In a tone of sheer contentment he said, "Riding is my yoga and meditation. Sadhguru ji provided me with an aim to achieve it through a noble mission." Undoubtedly a job well done and a mission well-accomplished! He went on to remark, "I hope by carrying this mission I contributed a few drops of water to restore the endangered rivers of my desertified state." Like tiny drops make a mighty ocean, may our tiny voices stir up a mighty roar to revive our rivers!
Gallery: