Syria, Raj Kapoor and Hatha Yoga
Subodh and Makarand are trained Isha Hatha Yoga teachers who made a remarkable effort, braving all odds to take Classical Hatha Yoga to a war-torn region of the world where it is much needed.
They describe the experience of the whole journey and how they managed to pull it off, in their own words: 
When we started teaching Classical Hatha Yoga over two years ago, we never thought that one day we would have the privilege to impart the gift of Yoga in Damascus, Syria. Since 2011, the war-torn country has been facing ongoing civil strife. There is also some misunderstanding of Yoga because this deep science is mistakenly viewed either as sporty leisure or as a religious practice.
An Unexpected Message
One day, out of the blue, we were approached on social media by someone from Syria to conduct a program there. It seemed that after watching one of our videos on YouTube, he felt a strong desire to message us on Facebook. 
We had many apprehensions. Would Syrians even be interested in Yoga? In the age of omnipresent internet trolls, how could we trust that this person was sincere, or even real? 
But as our discussions progressed, we realized that not only was he real, but he had been completely blown away by Sadhguru's videos and had a deep longing to learn Yoga in its purest form. Unfortunately, due to the unstable situation in Syria, he had not been able to travel to learn authentic Yoga and really wanted to make it happen for himself and other seekers around him. 
It was at that moment that we became determined to make this program happen despite all the challenges. After a year of building rapport, establishing trust and meticulous planning, it finally happened in July 2019. 
Making It Happen
The planning process proved to be difficult because we had to find our way around marketing publicly as the safety of everyone was our utmost priority. We were not sure if the airport in Syria would be safe so we first went to Lebanon, and then planned to enter Syria by road. Thankfully, Isha Hatha Yoga teachers from Lebanon - Yasmin and Dunia - were a great help in securing our visas and finding accommodation there. Though some friends warned us that getting a Syrian visa might prevent us from travelling to countries like the US or UK in the future, we felt that it was our duty as teachers to make this possibility available to others who so desperately wanted to learn Yoga.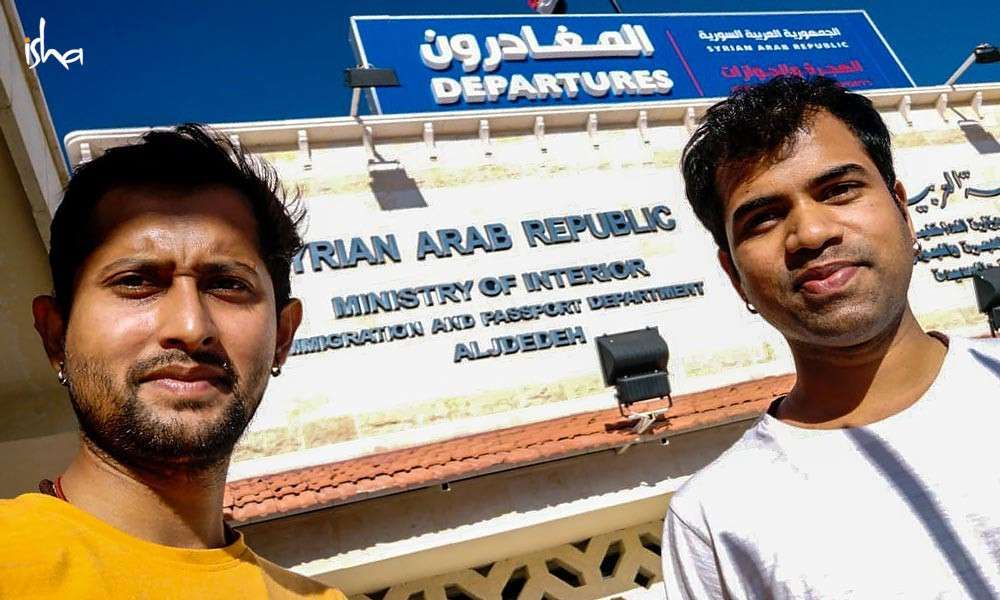 The next challenge was crossing the Syrian border, especially because we don't know the language. There were check posts everywhere just within a few minutes' distance from each other. They were checking us and our luggage each time, asking questions. As we were not used to this, there was a certain tension in the atmosphere, but because of the Yoga practices that we do, we were able to maintain a certain balance within ourselves throughout. 
Get weekly updates on the latest blogs via newsletters right in your mailbox.
When we finally reached Syria, the first thing we saw was Sadhguru's smiling picture on our host family's wall. It felt like he himself was welcoming us to Syria! 
Although each step of the way felt like this would be an impossible endeavor, somehow, with determination, persistence, family support and most importantly Sadhguru's grace, we successfully conducted the first Isha Hatha Yoga Program in Syria! 
A Strange Incident
Initially, when we would go out on the streets, there was a slight hesitation while approaching people because of the impression we had formed about Syrians based on the news or stories we had heard, especially with the soldiers. But one interesting incident happened which we had never expected. When we were driving to the venue for the program, at one check post, a soldier came and inquired about us. After our friend explained to him in Arabic that we were his guests from India, he allowed us to pass. Five days later, when we had completed the program and were coming back, the same soldier stopped our car and looked at us. He recalled our faces and with a big smile on his face and his hands joined, he greeted us and said, "Namaste… Come back soon." 
How It Was for the Participants
Though all Isha programs are structured the same, teaching in Syria felt different in many ways. For those five days enclosed in a farmhouse, we stayed together like in a retreat – we ate together, played, sang and danced together as we followed an intense schedule of Yoga sessions. 
The participants' longing for Yoga as a tool that goes beyond physical aid was apparent. All the participants went through the program with such openness, focus and involvement. Most of them shared that they felt fortunate that they could experience a drop of the spiritual aspect of Yoga in this lifetime, considering the crisis their country is facing. In fact, most of them had attended Inner Engineering which happened in their neighboring countries. 
Our Experience of the Syrian People
Wherever we travelled in Syria, we experienced a unique sense of warmth and affection from the people. In one of the local music instrument shops, the owner asked me, "Are you from Hind?" I said, "Yes, India." He said, "Oh I am a fan of Raj Kapoor" (a renowned Indian actor) and he started singing some of the well-known songs from his films. He even shared a few names of his favorite Indian movies. Many times, when we visited a local street food counter and when they came to know that we were from India, they offered some delicious complimentary snacks as a loving gesture. People here are so humble and full of compassion. Every small gesture of theirs filled my heart with utmost gratitude towards them. Even after losing so much in their life, they have not allowed themselves to become bitter. 
We went there to offer what we have, but we returned with an experience that we will cherish for the rest of our lives. 
Thank You So Much Syria. 
Connect with Yogavani on their Facebook Page.
Editor's Note: Inspired to become an Isha Hatha Yoga teacher? For more information, visit www.isha.sadhguru.org/HYTT or mail info@ishahathayoga.com.