Sadhguru and KV Kamath on Headlines Today
This weekend, Sadhguru and KV Kamath discuss business, the economy and corporate leadership on Headlines Today. Watch "Through The Mystic Eye," Saturday 7AM and Sunday 7.30AM.
The falling rupee, rising prices, and a rickety Sensex have been making headlines the last few days. Is it all doom, gloom and kaboom? How do we create a robust global economy and what is the responsibility of corporates and business leaders? This weekend on Headlines Today newschannel, Sadhguru and KV Kamath look at these seemingly evergreen questions that keep turning up every time the economy wobbles.
Through the Mystic Eye
On Headlines Today
Every Saturday – 7AM
Retelecast Sunday – 7.30AM
Through the Mystic Eye
Through the Mystic Eye is a series of episodes featuring Sadhguru in conversation with several eminent personalities. Headlines Today, one of India's leading TV newschannels, will be telecasting the episodes every weekend. Here are three reasons why you should sweeten your morning with Sadhguru's insight this weekend, and be ready for an "enlightened" conversation.
#1 A Suicidal Rupee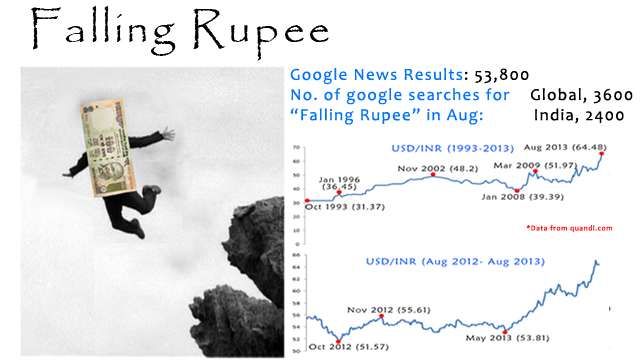 Over the last few weeks, for the first time in a long while the rupee has been granted celebrity status – but for all the wrong reasons. The Finance Ministry's appeals to remain calm have been blithely ignored by public, media and corporates alike as everyone stands riveted by the sight of a suicidal rupee plumbing unheard of forex depths (or is it heights?). Sadhguru and Mr. Kamath narrate an incident from the 2008 recession, and discuss the market's negative mood.
#2 Rising Prices
Get weekly updates on the latest blogs via newsletters right in your mailbox.
While politicians hurl accusations and analysts argue over the cause of inflation, the man on the street is struggling to make ends meet and put out the fire burning a hole in his pocket. Sadhguru touches upon the need for a more inclusive economic model which will bring wealth as well as wellbeing to all.
#3 Economic Growth
The Indian elephant has been having a good time for a while now, but lately it has mellowed down a bit with global and local issues taking a toll on economic growth. Over the course of their conversation, Sadhguru and Mr. Kamath look at the role of leadership – political, economic and otherwise. They look at what it is needed to make India a superpower, and whether Indians can walk the distance from possibility to reality.