Navratri Sadhana
Make the most of these nine nights of the Divine Feminine with a simple yet powerful spiritual process. Designed by Sadhguru, the 9-day guided Navratri Sadhana is being offered online from 26 Sep to 4 Oct, 2022. For the first time, this year, the Linga Bhairavi Arati will also be taught.
The link to the daily streaming video will be accessible for 24 hours in case you miss the session.
"Linga Bhairavi is feminine – you have to woo her. You must approach her with a sense of offering." —Sadhguru
Why You Should Do the Navratri Sadhana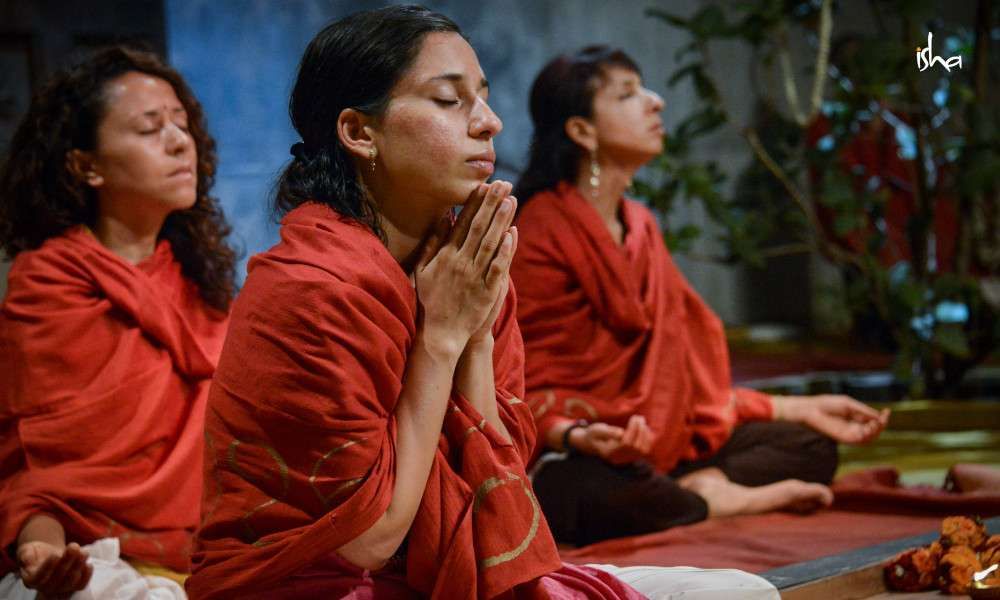 Get weekly updates on the latest blogs via newsletters right in your mailbox.
Deepen your bond with Linga Bhairavi Devi
Create wellbeing for yourself and your family
Create an exuberant atmosphere within and around you
Invoke Devi's grace by offering the Linga Bhairavi Arati 
The sadhana is open for all. Participate together with your family and friends.
You can participate online from the comfort of your home.  
When & Where
Online guided sadhana daily for 9 days
Use the Join button above to join every day
Date: 26 Sep to 4 Oct
Timings:

English: 7:45 PM to 8:45 PM
Tamil: 11:30 AM to 12:30 PM
Hindi: 6:30 PM to 7:30 PM

Live stream of the special Navratri Abhishekam on 2 October, from 5:30 PM to 6:15 PM. 
Guidelines for Sadhana
You will be guided through the sadhana during the online sessions. It will be best if you can join the session every day.
It is best to take a shower before the sadhana.
Be seated near a photo of Linga Bhairavi, Linga Bhairavi Gudi, Linga Bhairavi Yantra or an Avighna Yantra. If you do not have a Devi photo, you can print one out or display an image of Devi on your phone screen.
Light a lamp for Devi.
Make an offering - a flower, a fruit, a sweet or anything else that you wish. How you offer is more significant than what you offer.
There are no dietary restrictions. However, a sattvic diet is most conducive.
Ensure that you have a stable internet connection.
Ensure there is no disturbance in the room for the entire duration of the sadhana session.
If You Are Unable to Join the Guided Session
You can do the sadhana on your own at any time of the day.
Follow the guidelines given above and create a conducive ambience.
Chant the Linga Bhairavi Stuti 3, 6, 9 or 11 times. Click here to view and download the Linga Bhairavi Stuti.
It is best to chant eleven cycles daily. One cycle is the recitation of all 33 names of Devi. When chanted with devotion, one becomes available to receive Devi's Grace.
The link to the daily streaming video will be accessible for 24 hours in case you miss the session.