Indian Ocean – Indo-Rock Fusion Band Raises Funds for Mahima
On 19 September 2008, at the Cobb Energy Performing Arts Center, Atlanta, an audience of over a thousand people was treated to a wonderful evening of live music by the Indo- rock fusion band Indian Ocean. It was the second of three fundraiser concerts by Indian Ocean in the United States, dedicated to Mahima, the unique dome-shaped meditation hall at the Isha Institute of Inner Sciences, USA. The band had started the series with a performance in San Francisco earlier in September.
Indian Ocean has enthralled audiences everywhere with their melodious, often hypnotic, compositions – influenced by Sufi, Folk, Rock, and Indian classical music – that typically run eight minutes or longer and sometimes resemble complex extended jam sessions. Their elegant mix of acoustic and electric guitars, tablas, drums, flutes and of course, stirring vocals is probably unique in a live setting.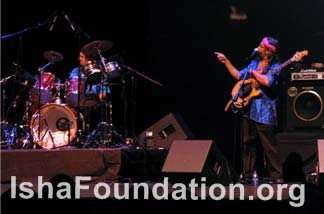 Someone who hears Indian Ocean for the first time would be hard-pressed to imagine that such complex, yet melodious, music can be produced by just four individuals – Asheem Chakravarty on the tabla/lead vocals/other percussion, Susmit Sen on the lead/rhythm guitar, Rahul Ram on bass/guitar/vocals, and Amit Kilam on drums/flute/vocals. Each one of them brings his own creativity and passion to the music, and together the band is more than the sum of its talented musicians.
The concert in Atlanta started promptly with In the Ruins, an ancient Vedic composition set to heart pounding rhythms that captivated the audience and whetted their appetite for more… The band was on a roll and played composition after composition, enthusing the audience with Kyaa Maloom from the Kandisa album and Boll Weevil from Desert Rain. With a deft change of pace, they pleasantly surprised the audience with a Bengali folk track called Bondhu, from a yet-to-be-released movie, Bhoomi. This traversal from slow and classically ingrained melodies to heavy bass and percussion driven jazz and rock riffs showcased the versatility of their musical skills. Although the first set lasted about 65 minutes, it felt like only 10 minutes had elapsed, such was the intensity and vibe within the auditorium.
Get weekly updates on the latest blogs via newsletters right in your mailbox.
Before breaking for intermission, Rahul Ram, the band's bass guitarist, introduced Isha and its various initiatives to the Atlanta audience, which was followed by a short video presentation about Sadhguru and Isha's social initiatives. Here and in the other cities where Indian Ocean performed, this exposure to Isha Foundation brought a huge awareness of Isha and Sadhguru in the respective city audiences and also raised over $20,000 for Mahima. Thanks to the diligent work of all our volunteers who made these concerts a reality..The band also introduced the new book by Cheryl Simone and Sadhguru – Midnights with the Mystic: A Little Guide to Freedom and Bliss.
Indian Ocean returned to the stage after intermission with the foot stomping Hille Le, an adrenaline-pumping track from Kandisa, and belted out Bandeh (from the movie Black Friday), a song with powerful lyrics that upon release, had reached Number 2 on the Indian music charts. The beautifully orchestrated Bhor and Jhini presented a glimpse into Indian folk music. Melancholic Ecstasy – which had been performed before an audience of 15,000 at the Isha Center in Coimbatore showed the band's creative energy. Kandisa, a haunting tune sung in ancient Aramaic, was followed by Kaun which brought the musical feast to a close.
The quality of the performance and the energy between the band and the highly appreciative audience was so electric that all were united in their desire for more rocking melodies and ragas. All in all, Indian Ocean had done a phenomenal job of getting the audience their time and money's worth, while raising funds for Mahima all in one unforgettable musical evening!
On 20 September, this feat was repeated in Detroit at the Ford Community and Performing Arts Center in Dearborn, MI to an audience of over 500. After the concert, one of the band members told an Isha volunteer: "Detroit has heart! We'll definitely be back."