Bhava Spandana in Lebanon - A Sense of Being
In this bouquet of sharings from the recent Bhava Spandana program that happened in Lebanon, the participants express their heartfelt gratitude at being touched by this enormous energy and grace.
A BSP volunteer shares her journey of helping in organizing the program:
Three Years In The Making
We are told that almost three years have passed since the last Bhava Spandana program was offered in Lebanon, and here we were flocking with much anticipation to participate in the largest to date in this part of the world. The program took place between September 12 and 15, 2019, bringing together 89 participants and over 40 volunteers. Many came from other Arab countries and abroad to be part of the four-day residential retreat in Bzommar – a village in the Keserwan District of Mount Lebanon. After three years in the making, these four days of joyful activity were an offering of a lifetime! 
Exuberance And Stillness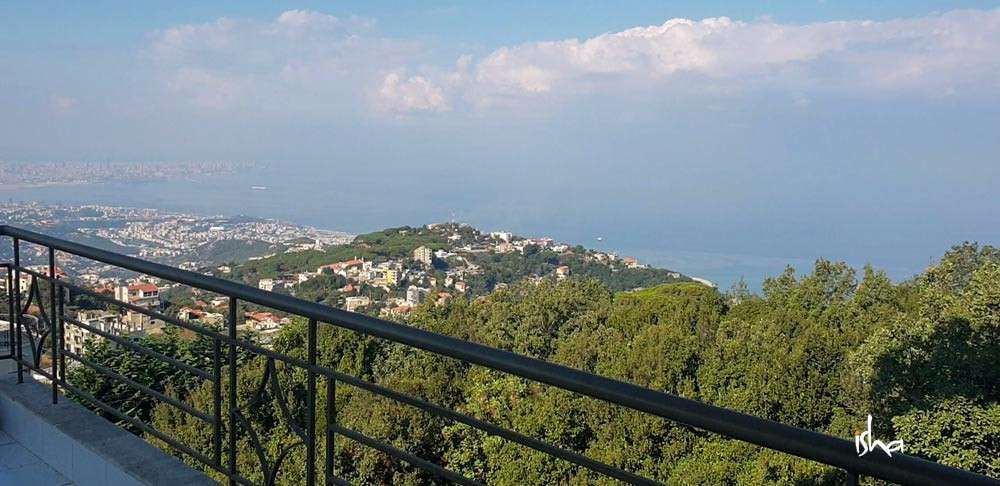 We reached our destination a day in advance. The location was beautiful and from the terrace we beheld a breathtaking view of the forested mountain on one end and the Mediterranean Sea on the other. The dense congregation of lush green trees was throbbing with life and the vast emptiness of the sea was a contrasting image of perfect stillness. A fitting metaphor for Bhava Spandana - moments of explosive exuberance and moments of implosive stillness.
A Volunteering Experience That Resonated
As we attempted to recollect and share memories, we noticed that the resonance of Bhava Spandana remained alive within us, subtle yet very palpable. In no time, the monotonous premises was transformed into a vibrant space. We walked barefoot, chanting and gracefully moving about as we made preparations. Among ourselves, we become like one big force working towards a common goal. We come to join hands in the various activities required from hall setup, practice corrections, kitchen and dining preparations, ushering and general housekeeping. Beautiful flowers and greenery sprung up at every nook and corner, and cabinets for participants were lovingly crafted by willing hands, as every part of the venue began to come to life right in front of our eyes. In the space of a few days, the atmosphere of the ashram was recreated here, and it felt as if it extended across continents and beyond geographic boundaries. The seeds planted by Sadhguru in each were indeed flowering in such a warm embrace! 
A Sense Of Being – A Few Personal Sharings 
A life transforming experience, Bhava Spandana opens up inner doors that are often beyond wildest imaginations. With tears of joy the only recourse for many, a few express this natural outpouring of emotion in words. 
Greta: "My last experience of volunteering or being in Bhava Spandana was over five years ago at the Isha Yoga Center in India, among hundreds of other participants. Emotions and energies manifested in so many different ways. As a gentle flood of tears washed my face, an ocean of love and compassion washed my being and still does. I could see in a moment the Divine in each one. I found myself not looking at other people's eyes but through them, at something much deeper which we seem to carry within us as a whole. In that moment, I felt I could simply let myself 'be' in such a space consecrated by Sadhguru for life and I am and will ever be immensely grateful for this space within and without. 
"I sensed so much grace, power and compassion in the image of Sadhguru. My attention would naturally and consciously go there so many times. In many ways, this image has guided me through every step of my journey with utmost gentleness. This image felt very real and present."
A poem
Remember, Remember
Once upon a life
A moment so intense
Where we simply remember
How
Falling in love, we quiver
Heartbroken, we dither
In moments of loss, we shiver
Get weekly updates on the latest blogs via newsletters right in your mailbox.
Falling down and low, we wither
Reaching up and high, we shimmer
In moments of joy, we flutter
Childhood, tender
Youth, slender
Old age, yet to ponder
Seeds of wonder
Fruits of hunger
Seasons of thunder
The poetry of a Mother
The science of a Father
The grace of a Master
Who with nothing but a flower
Makes us surrender
Transforming believer
and non-believer
Into nothing but a life-seeker
A cosmic whirling dancer
Remember, remember
Almass: "I felt Reborn, as if the reset button of my life has been pressed! Before BSP it seemed that I was avoiding life. It is love that I have been holding back and fearing to express truthfully. The program was a dream and only after experiencing it I have come alive and awake. It is like I have been holding myself back from tasting the sweetness of my inner love to myself and to all human beings, like a coconut being cracked and having to taste the gratifying coconut juice, a clear liquid." 
"Only after experiencing BSP I have known how the daily crash course in Inner Engineering truly works. Now that my Shambhavi Mahamudra practice is enhanced with intensity, I am looking forward to sinking deeper and deeper within myself."
Nadine: "BSP is the most basic course of life of how to vibrate and how to live. Being in adult life, plunged in the survival process, saturated with duties and obligations, I had forgotten how to be simply a human being. A flame has been lit up and kept growing especially when the whole group gathered on social media. Positive energy multiplied. A wave of magic was touching me and each one, letting me believe, despite all the negativity surrounding us in Lebanon, I was for the first time in my life not only believing but also working for a better future."  
Avo: "BSP was so intense and ecstatic that I didn't know we have such a power within ourselves. It was way beyond my imagination of what is really being human. It was the peak of bliss. There was nothing such as time in me, whatever I believed that I was just disappeared into an explosion of emotions and energy. Way beyond the body and mind, tears of ecstasy were rolling endlessly. I feel so grateful for Sadhguru that he puts his life into this. His presence in my life is blessing. I wish that every human being must experience this." 
Serouj: "After BSP was over, the most interesting thing was that for the first time I was relating to everything and everybody. This feeling stayed with me for a week, and during the following week, I was feeling something more than compassion to everyone - I was seeing the person beyond the body, the mind and the emotions. Especially during my practices, I lost the ability to differentiate between me and my surroundings. By body seemed to merge with my room.
I couldn't have imagined something like this happening to me, at least not so soon! And now, having lived a blissful experience like that, especially during the four days, I am willing to work towards making that state as a living reality for myself. Thank you for everything and everyone. I bow down to you, and I bow down to Sadhguru once again."
Editor's Note: Find a Bhava Spandana Program near you.