The Making of a Hata Yogi: The Festival Season
In Week Twelve of our series "The Making of a Hata Yogi," participants of the Hata Yoga School are exposed to a full blast of festivities.
Week 12: The Isha Hata Yoga Teacher Training Program is an endeavor to bring back classical yoga in its purest form and to train teachers who can impart this phenomenally powerful science. In this series, we will be following the participants through their exciting 21-week journey.
In Week Twelve of the program, the participants of the Hata Yoga School are exposed to a full blast of festivities.
Everything that can happen as life is a festival. So every day was a festival.
India, as everyone knows, only needs an excuse to celebrate. Our calendars are full of festivals – some religious, some seasonal, some cultural, some social – but all the same, they serve as occasions to exult in life.
Talking about this tendency, Sadhguru says: "There were 365 festivals in a year at one time. Every activity that we could do in our lives was made into a festivity. Because these were agricultural societies: ploughing was one kind of festival, planting was another kind of festival. Everything that can happen as life is a festival. So every day was a festival. Even today, at least 50 to 60 festivals are still alive. I don't think any other country or culture in the world has that many festivals. People had a tremendous sense of zest and involvement, making every day into a festival and having elaborate rituals and processes. This sense of involvement with life and unbridled passion for everything that you are in touch with right now is what is most crucial for one's life to flower into an ultimate possibility."
The participants of the Hata Yoga School plunged themselves wholeheartedly into Navratri celebrations at Isha Yoga Center. There was so much happening! There were performances and recitals every evening of the festival, the Devi complex came alive with offerings and chants, there was traditional garba and dandiya dancing every evening and an array of magnificent crafts were laid out at the Hands of Grace exhibition… and if there was any doubt at all that this was a great Indian mela, there was even a chaat stall to complete the festivities.
Since many of the participants came from overseas and had never experienced the Dussehra festival or traditional dancing, there was a training session held at Spanda Hall, where everyone was briefed about the basic dance steps, attire and other aspects of dandiya raas. That set the tone for the nine days – every evening, residents gathered and moved in unison to the lilting melodies.
Get weekly updates on the latest blogs via newsletters right in your mailbox.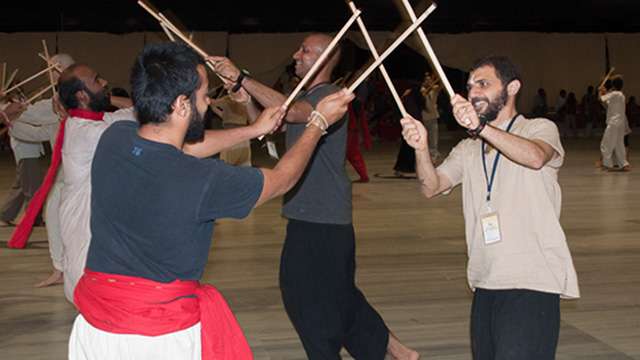 The budding Hata Yogis were thrilled. Francesco says, "It's amazing how such a simple and repetitive dance can be so highly entertaining, relaxing, amusing… I really had a blast." Vasundhara says the amazing handicrafts exhibition emptied her pockets completely because of the finely selected and displayed handicrafts: "We even got to tease our taste buds with chaat, for the first time since coming here! These nine days of Devi, we danced, ate and celebrated!" Talking of the atmosphere that had gripped the ashram, Stephanie shares, "If I were to tell anyone that here we dance, we sing, we dress up in rainbow colors, we laugh and eat delicious food… they wouldn't believe me. For me, an ashram or a monastery used to mean a dead-serious place to be, where people are extra conservative, no jokes, no music, no dancing, no dresses, and eating only plain food... After staying here in Isha for 2½ months, I have learned and understood very well that being alive is the celebration."
However, apart from the festivities, there was another event of note – one that moved the participants to tears. The program has reached its halfway mark and with Sadhguru having gone to the USA, the group had been missing him. They were particularly thrilled when he took time out of his schedule to interact with them via webstream. Sadhguru told the participants: "The training is structured to see that slowly it transforms you into not a Hata Yoga teacher, but into a yogi because, in my perception, ultimately only one who is yoga should transmit yoga." He responded to a range of questions about their training, the troubles they were facing as well as queries regarding various practices, and the session left the group very charged about their training.
In their responses to the web sathsang, one description that came from many was the word "intimate." Stephanie says, "It was such an intimate long-distance session with Sadhguru. Inexplicably, my mind was crystal clear on how to work towards bringing all the practices that has been transmitted to us to the next level. I see that it takes a lot of ground work but once all that gets established in my practice, reaping from the sweetness of the fruit is inevitable. And the thought of that just keeps me burning." Yves shares: "It was a whole new experience to be in touch with Sadhguru via an online connection – God bless the internet! This session overall encouraged us to go on with the training in a dedicated and motivated way!"
The Making of a Hata Yogi is a 21 part series...
Editor's Note:
The Isha Hata Yoga Teacher Training Program is an unparalleled opportunity to acquire a profound understanding of the yogic system and the proficiency to teach Hata Yoga. The next program will be conducted from 12
th
July to 6
th
December, 2014. For more information, visit
www.ishahatayoga.com
or mail
info@ishahatayoga.com
.