Life in Sadhanapada – Reflecting on 2019
As we usher in 2020, it is also the last leg of Sadhanapada, and so the heat is on in the middle of winter! Let's take this opportunity to look back at 2019 and what has changed within the participants since then.
Over 800 participants from 32 countries come together to spend 7 months in the consecrated space of Isha Yoga Center for their inner growth.
Life in Sadhanapada - All Articles
Exactly one year ago… 
If somebody had told you in late 2018 that next year you would be living in an ashram for 7 months, what would you have said? 
"No way! I have my plans for an improved bank account and my social situations. I'm well on track and don't have time for anything like this. I am yet to get rich." - Chirag, 34, Maharashtra 
"I would have laughed it off or tried to say something smart. It was too far-far-fetched an idea. I had other plans in life, and enlightenment was a four year goal to be considered some time well into the future." - Tanishq, 22, West Bengal
"My reaction perhaps would yo-yo from 'Are you nuts?!?' to feeling blessed to consider spending time in a perfect space for reflection and renewal, a platform to lessen my ego while working with a smile and an open heart." - Poonam, 23, Maharashtra 
Back to the Future
Deciding to take off 7 months to be a part of Sadhanapada is a big commitment to make. What could possibly have led our participants to walk down this path?
"I was a participant in Mahashivratri 2019. At that time, a few volunteers wearing Sadhanapada T-shirts were distributing pamphlets. My cynical mind literally thought, 'Why would anybody spend 7 months in an ashram for this Yoga program? These guys must be either mad or have nothing to do with their life. Fools are everywhere!' Fast forward 3 months, I am here and so lucky to be here." - Satish, 27, Telangana 
"When I got selected for Sadhanapada I was floating on Cloud 9 but still nervous and anxious. This was my first time in the ashram and away from home for so long. With no junk food to eat and having to live a disciplined life, my mother made a bet that I would run home within a month. It has been five months now. She owes me Rs. 2000!" - Kriti, 21, Jharkhand 
"I attended the Mahashivratri 2019 celebrations. When 'Divya Darshanam' was shown for the first time on that night, I became overwhelmed. Something changed. I was in tears and I felt so much connected to this space. It cannot be explained. At that moment, I said to myself 'I want to spend a few months here,' and immediately registered for Sadhanapada. 
Three months later, I was in the ashram on Dhyanalinga Consecration day in June. I sat inside the Dhyanalinga from 6 AM throughout the day - just sitting, meditating, listening to various spiritual chants, and experiencing the exuberant energy. Until 6 PM, I neither ate, drank, nor took a break. 
Get weekly updates on the latest blogs via newsletters right in your mailbox.
My family members visited the ashram recently. We visited Dhyanalinga together, and they could not believe that I can sit in the one place without moving for more than half an hour!" - Mithila, 41, Maharashtra
2019 – Transformation or Change? Keep the Change!
The powerful process of Sadhanapada has been designed by Sadhguru to bring about a deep and lasting transformation. But has it worked? Here are a few reflections.
"Like a damaged tape recorder that repeats the same thing over and over, I used to bore people about my past, but now not so; my friends will definitely be surprised and relieved. I am joyful by my own nature for no particular reason, feel so grateful, vibrant, and there is a sense of stillness and balance within which helps me go through the day with ease. Also, I have learned to laugh at myself. I owe the smile that you can see on my face to everybody who made Sadhanapada happen for me." - Sumathi, 35, Karnataka
"In recent times, my family and relatives have been pointing out how easily I get angered. I was doing my kriya regularly, but still I couldn't fully resolve my temper. I came to Sadhanapada. My mother wasn't supportive of me taking this step. On Diwali, I had to go home and returned to the ashram within a day. My mother noticed something different in me. The mood between us had changed. Our telephone conversations started to end on a positive note. She accepted my gentle suggestion to attend a 7 day Inner Engineering program. It was what I most wanted for her to experience because this has brought about such a deep transformation in me. After the program she ended the call with "Namaskaram." I got emotional and I felt that my responsibility as a son had just got fulfilled." - Navaneethamuthu, 35, Tamil Nadu
"In the last five months, there wasn't a single moment of anger or frustration. This would surprise my family who considered me to be the most short-tempered person in the house." - Jayaganesh, 24, Hyderabad
"My family and friends will be shocked to see that I now have fully white hair and that I have been taking cold showers which actually feel okay... in fact it is so rejuvenating! Also, the fact that I have learned to say 'No' gently but firmly whenever needed. I am responding to situations as against reacting most of the times. Consciously trying to see the best in people and not forming opinions." - Poonam, 53, Maharashtra 
Comparing Celebrations…
"In 2018, I sat in my room with a diary and meditated for the New Year. Being in the ashram this year, it looks like my wishes came true. 2019, just being here every day with these energies is itself a celebration. – Harshita, 26, Lucknow
"In 2018-19, I celebrated my New Year with wine. This year I will be living the divine!" – Kartikay, 25, Rajasthan
"I don't want to celebrate the New Year this time. I want so much energy within me that I can celebrate every day as a New Year. I want the Sadhana to get me to that state." - Abhinav, 28, Mumbai
2020 - Where do we go now?
How has Sadhanapada prepared the participants to face the coming year with all its challenges and possibilities? What do they desire the most for themselves in the coming year?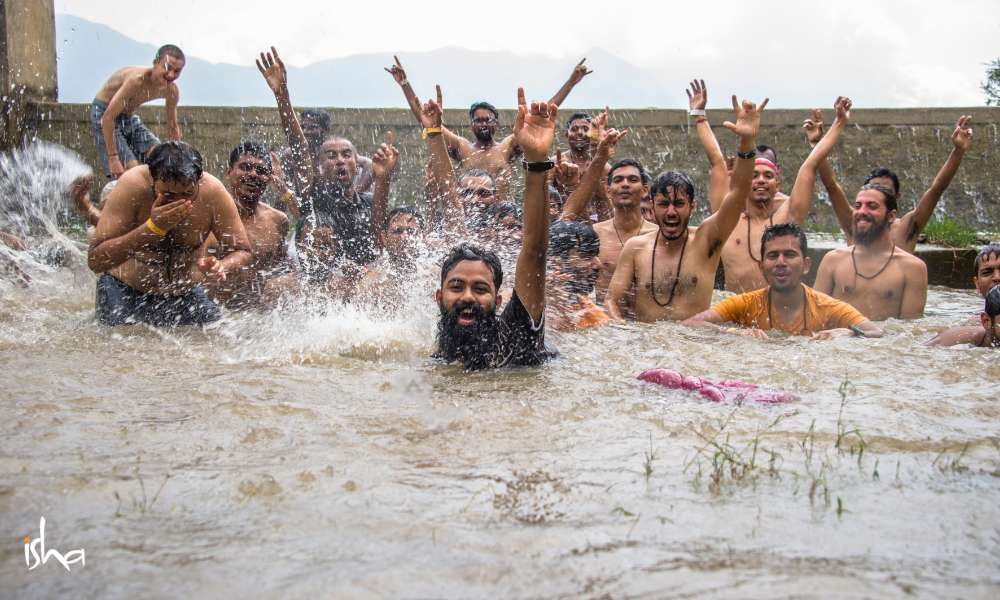 "This year, it doesn't matter how it starts, being here in this space is fresh and new all the time. It's an out of the world experience, waking up to mountains, Dhyanalinga and sadhana all feels dreamlike to me. The way I approached life before and now are worlds apart. I am out of my 6-year-long addiction to smoking. I never did any Yoga or exercise, but now I am committed towards all my practices and time seems to fly. For sure my life is heading towards a great story." - Prajjwal, 22, Uttar Pradesh 
"Sadhguru says, 'Above all, balance'. I want balance. I want to establish myself in Yoga and then perform action. I want to be a part of Sadhguru's dream of reaching Yoga to every human being on the planet. I want to know if I am going in the correct direction. I want to experience Yoga. I want to be in it." - Chirag, 34, Maharashtra
"From the time I came for Sadhanapada, I gave myself fully to Sadhana, starting at 4 AM till 9:40 AM for 2-3 months. Although the time allocated for sadhana was later reduced to bring in more seva activity, the intensity of my practices increased. After attending the Samyama Sadhana program, I am more calm and focused. Throughout the day, I am alive with moment-to-moment awareness. Now, I feel the most significant thing I can do is to become an Inner Engineering teacher, no matter what it takes. I just want to offer this transformational experience." - Umesha K, 27, Karnataka 
"I want all that Sadhguru wishes for us to come true in all the coming years." - Prajjwal, 22, Uttar Pradesh
Editor's Note: Find out more about Sadhanapada and express interest for the upcoming program here.