Isha Insight Day 2: Scaling Up Leadership
Day Two sees participants joyfully delving deeper into the compelling blend of inclusive leadership and business prowess.
A Healthy Dose of Surprise
Waking up to the gleeful thrum of the drum before sunrise, participants swallowed a mandated dose of "green and yellow balls" (neem and turmeric) – "Even in the quiet of dawn the disruptive yet pleasant surprises just seem to keep popping up at Isha INSIGHT," a dazzled participant shares his delight. Leaders then ambled into the grandeur of the Adiyogi Alayam for a guided session of Upa Yoga and Isha Kriya. For several, it was the first yoga session of their lives.
 
"Life is a participatory sport; that is the only way it works." These words of Sadhguru resonated as soon as participants entered the hall and couldn't find their places – as it turned out, their tables and resource leaders had changed! The grinning leaders settled down as the panel of speakers launched into yet another day of intense discussions and captivating stories packed with the insight of leaders from all walks of life.
The Secret of Chettinad Success
First came M.V. Subbiah, the patriarch of Murugappa Group and a Padma Bhushan Awardee. The session was moderated by Shanker Annaswamy, former managing director of IBM India Private Ltd, in the presence of Sadhguru, wherein Subbiah delved deep into the crevices of the structure of the Chettinad community. This tête-à-tête explored the nuts and bolts of the almost magical success of this small group of only 120,000 surviving Chettiars.
 
"Humility, simplicity, trustworthiness, and working for the wellbeing of all have been the key values of the Chettiar community," said M.V. Subbiah. He further elaborated on Chettinad's history of building magnificent temples, including the famous Meenakshi Temple in Madurai, and other community services.
Upon being asked what is needed in India today, the former chairman of the National Skill Development Corporation (NSDC) readily quipped, "Have a thousand Isha farms all over the country." After hearing about the values and traditions of the Chettiar community from M.V. Subbiah, Sadhguru too fondly shared that now he understood why his grandfather might have taken on Chetti as his second name, "Probably his communication with the Chettiar community inspired him to take on this title."
During the Q&A time, it became evident that #IshaINSIGHT participants were intrigued by and in awe of the values, wealth, and stature Chettiars hold in society even today when western education and systems are considered almost indispensable for competing in the market.

https://twitter.com/IshaLeadership/status/1066010158059282432
Get weekly updates on the latest blogs via newsletters right in your mailbox.
Rapid-Fire Rounds
After a short tea break, participants were musically summoned back by Sounds of Isha. Tapping their feet in time to the folk beats, leaders sashayed around the hall before settling in for the next electric session with Kishore Biyani. Here we had Biyani onstage with B.S. Nagesh and Sadhguru. The topics they discussed ranged from effective team management to agro-industry to the celebration of the entrepreneurial culture of India.
One intriguing idea of the session was doled out by Biyani, "I don't think you need too many smart people to come together to make an organization. Ordinary people can come together and do extraordinary things." Sadhguru built on Biyani's insight and said, "If there is inspired leadership, you don't need very smart people. We don't need too many smart people all over the place, because smart people have problems taking instructions."


"Sometimes our education system makes things complicated," 
"Business should just do business. That itself is a service. When the lion feeds, everyone else gets to eat. Businesses shouldn't get into social reformation with CSR. That is for NGOs and spiritual organizations to work on. A business's responsibility should just create a roaring business. We do business and then feel guilty about wellbeing. It should not be so."

https://twitter.com/IshaLeadership/status/1066218085751779330
The discussion had such a quick back-and-forth it was almost like a rapid fire round, though unplanned. "I make my questions complex, and you make things so simple. And you finish it in 20 seconds' time, how does all this happen?" eventually exclaimed a pleasantly surprised Nagesh. "Sometimes our education system makes things complicated,"responded Kishore Biyani.
Inclusive Scaling Up
"It was a delight to hear an honest and capable young man who speaks from his heart," shared Ashish Khanna, CEO of renewable energy business of Tata Power. He was referring to Mustafa, the third speaker of the day, who indeed stole the hearts and minds of all present as he told tales of his life. Innovating at every step of the value chain, and maintaining steady growth with a strict value system, P.C. Musthafa shared how iD food diversified and differentiated from his competitors, and became a 1000 crore company in just 13 years, starting from nothing. "The joy of giving is unparalleled to any other joy I have experienced in my life. The more I give, the more I receive, the happier I am," P.C. Musthafa shared the core drive of his life on a standing ovation from the audience as he was finishing the session.

https://twitter.com/ishafoundation/status/1066251664980492288
Reflecting back on the speakers of the day, one could not but notice the contrast between a fourth generation scion of the famed Chettiar business community, M.V. Subbiah, with a long history of tradition, wealth, and success…and the first generation son of a daily wager who rose to economic highs through unconventional business models. Yet the culture of including others in their success and wellbeing was a compelling link between the two. Another strange parallel between the two men was that both underwent a disruptive change at the age of 10, but in totally opposite context. While 43-year-old P.C. Musthafa was bitten by the entrepreneurial bug at this age, Subbiah, an entrepreneur's son was sent away to a marginal way of life in Sri Lanka, living almost like a servant.
An Empowering Evening
Sadhguru left the participants floating in the bliss of stillness and rejoicing in another celebratory evening of delightful cuisine and the culture of Chettinad. 
The day which had passed, yet again in what seemed like just a moment, was filled with intense inquiries that settled participants into the swing of things. After a short break, participants were thrilled to have Sadhguru engaging them in a two hour life-empowering session. Participants sat totally absorbed in the expressions of Sadhguru's wisdom and clarity as he challenged the status quo of how we do business and live. "To cross the limits that nature has set for human beings, the only way is to enhance your clarity, to enhance your vision, and to see things that others are unable to see," Sadhguru deconstructed the danger of cementing belief systems. As the evening wore on, Sadhguru led them through the intricacies of the mind, and concluded the session with a powerful Chit Shakti meditation to empower them as the masters of their destinies. Sadhguru left the participants floating in the bliss of stillness and rejoicing in another celebratory evening of delightful cuisine and the culture of Chettinad.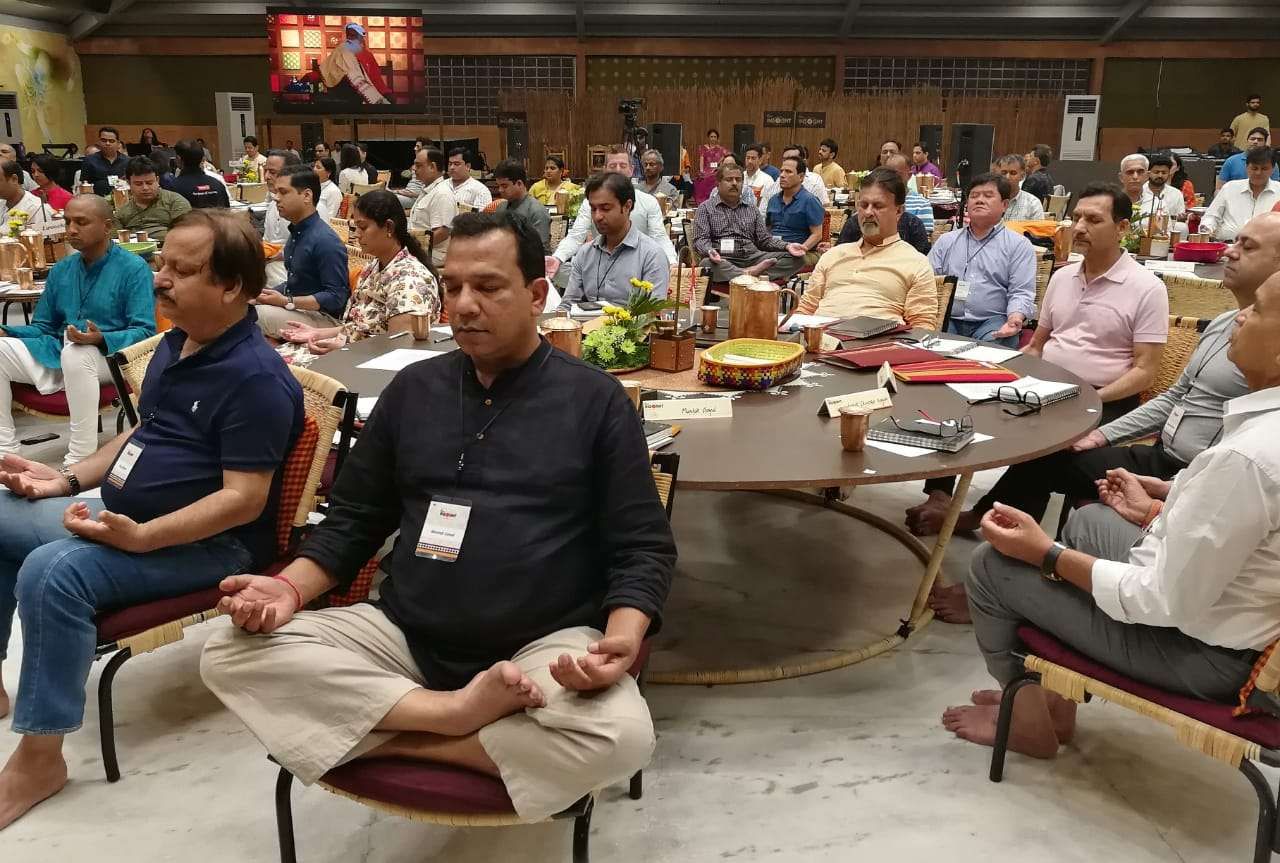 "This program has put me on the path of happiness and responsible leadership in just two days," shares Ajay Sawarkar, Bangkok VP, Indo Rama Ventures. "For the first time I feel I can do something with myself." "This is a journey I have just begun, hopefully it will take me far," Ashish Khanna, CEO of the renewable energy business of Tata Power Solar System Limited, shared his longing subtly.
The program already seems to have no end, but everything that has a beginning has an ending. Stay tuned for more on Day 3!