The Bicycle Yogis: The First Two Months on the Road
The Bicycle Yogis take us through some of their favorite memories and challenges faced from their first two months on the road as they share the gift of Yoga with rural India for free.
Three Isha Hatha Yoga teachers, as part of their initiative "Bicycle Yogis," have set forth on an 6500 km journey from Kanyakumari to the Himalayas to offer classical Yoga to children in villages - on bicycles!
It has already been almost three months since the Bicycle Yogis – Ajay, Shivanga and Annie – began their adventure to spread Yoga across rural India. Below, they take us through some of the best parts of the first two months – September and October – as well as the challenges they gracefully overcame.
Heartfelt Moments
When asked what had touched them the most so far, they share their fondest memories of having the privilege to impart Yoga:
The School for Dropouts in Kovilpatti
"This was maybe the school which had the greatest impact on our hearts! We went to a home for kids who have dropped out of school because they are not taken care of by their families. On the second day, after the class ended, all the kids surprised us when they excitedly asked if they could dance for us. Of course we said yes! We watched 4 choreographed performances, and the cuteness was just overwhelming. Shivanga said he had to hold back from sobbing as he felt it would have been awkward. After their performance, they asked us to join them and we danced with them in full abandon. They had so much energy – the whole situation was a blast!
Isn't this the most adorable thing you've ever seen?#India #dancers #cuties pic.twitter.com/mpeBl6fA64

— Bicycle Yogis (@BicycleYogis) September 30, 2019
Unexpected Paparazzi during Their Largest Class in Sattur
In this school, we were originally only going to teach 1 or 2 standards, which had a few hundred kids, but as their morning assembly was getting over, Ajay convinced the principal if they could all stay back as everyone would benefit from this. He agreed and we started right away. Then at one point during the class, a guy with a big video camera started walking around. We thought the school had arranged it, while the school thought we arranged it! But it turned out that it was for 5 major news channels in Tamil Nadu, and they wanted an interview after the class. It seems it was never aired on television (at least we haven't heard anything yet) but it was a fun experience.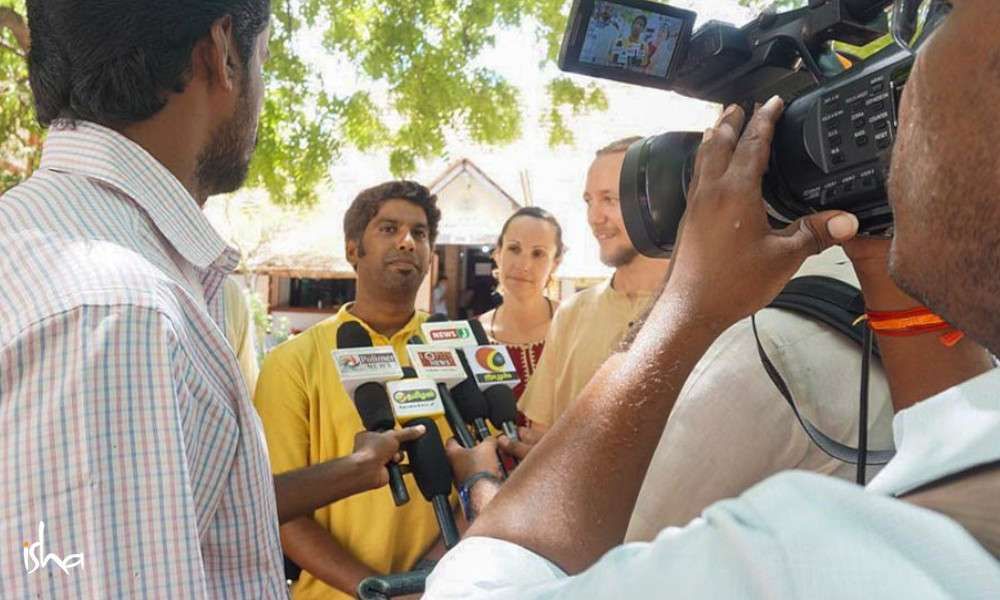 Diwali at Isha Yoga Center
We had the chance to visit the ashram during the teacher training program for the current batch of Hatha Yoga teachers. We thought we could give a talk to the trainees and try to inspire them to teach and think outside the box of a conventional studio. The Hatha Yoga school agreed and we quickly gathered some photos for a presentation where we shared about teaching our first classes, how it is to travel and teach, what we've learnt along the way and of course – the experience of being Bicycle Yogis! It felt great to be able to share our experience with them. Many of them shared that they now felt motivated to go through the rest of the training with enthusiasm.
Happy #Diwali!
We had the chance to visit the ashram for this special day, which felt like a huge blessing. We held a session at the Hatha Yoga school to share our journey with the trainees. We felt very happy to be able to inspire them.@IshaHathaYoga #Inspiration pic.twitter.com/LwqERDQkQi

— Bicycle Yogis (@BicycleYogis) October 28, 2019
It was a lucky coincidence to spend Diwali in the ashram. It was a fun and beautiful celebration. Eating pranic ashram food, visiting the Dhyanalinga and soaking in the energy of the ashram was most needed after being on the road for a long time and sleeping and eating in all sorts of places. This was an enormous gift as we went back to our bicycles in Madurai, revitalized and prepared for anything."
Challenges Overcome
Since all the schools were closed for Navratri and quarterly exams followed by holidays, the Bicycle Yogis had to get creative to find students to teach during that time span of about three weeks. They reached out to a school for blind children, a home for blind women, an old age home and even a cricket sports academy with whom they shared the gift of Yoga.
Cricket Sports Academy
"This was the first time that we taught somewhere other than a school. We were in Tirunelveli feeling stuck as the schools had just gone on holiday and we couldn't find anyone to teach. Isha volunteers were all busy with Cauvery Calling, so we were not sure what to do. Then we started thinking outside the box and found this cricket academy by searching on Google Maps. We called them and went there the next day to teach. We chose different practices that would be more relevant for them - especially related to healing injuries and improving hand-eye coordination. They were so touched that the team captain gave us medals to thank us!
Institute for the Blind
We went to a school for the blind where we taught 100 students. We were shocked at how quickly they imbibed the practices. We also planted 3 trees with them. They were such a lively bunch and it was a joy to see their enthusiasm. The students there had varying degrees of blindness – some completely and some were able to see a little bit – so accordingly, they formed small groups and guided each other. It was beautiful to witness this.
We planted three trees at the Indian Association for the Blind. It was a very lively time! It was beautiful to see how the students interacted with each other, mostly in pairs and small groups - a lot of laughing, and helping to guide each other.#CauveryCalling pic.twitter.com/qyr7j1lG7V
Get weekly updates on the latest blogs via newsletters right in your mailbox.
— Bicycle Yogis (@BicycleYogis)
October 25, 2019
Eating Adjustments
The biggest challenge thus far is finding food that will suit our stomachs. Initially, we were falling sick one after the other. Every week someone was having some stomach problems that made bicycling very difficult. Thus, we have recently started stocking up on Sanjeevini, neem and turmeric, groundnuts, dried fruits, and horse gram powder. We are better prepared now!
Sleeping arrangements
Mostly we stay in hotels in towns. We have also been lucky to stay in the Isha Centers in Nagercoil and Madurai, which have Sannidhis. Other than that, we ended up sleeping in a guest house in a cement factory once, as an Isha volunteer who worked there invited us to stay."
On this journey we face a lot of unexpected things, and sometimes we don't even know where we'll sleep.

We ended up staying at a cement factory, thanks to Venkatesavan Anna who is a chef there and an #Isha volunteer, we stayed the night in the factory's guest house.#adventures pic.twitter.com/0LuWcFFi8n

— Bicycle Yogis (@BicycleYogis) October 5, 2019
When asked how they keep their morale up after long days of cycling, they reply: "Consistently keeping up our practices, eating dried fruits and Sanjeevini and making each other laugh! But the thing that keeps our spirits the highest is seeing the kids in each school we go to. Just being with them, and their smiles and joy, you can't help but smile back."
Great Encounters
The Bicycle Yogis shared how they encounter beautiful people throughout their travels. Anything from people on the road giving thumbs up and smiles to people being helpful with small things here and there, or other random encounters that can have the greatest impact.
"One example was the juice vendor in Valliyur who always looked like he just came out of a long blissful meditation. We would go there to talk to him even if he didn't have the best juice in town! Tamil Nadu is full of sweet, beautiful people and we are lucky to have met so many of them!
Raviraj was an amazing support to us in Kovilpatti. From the first day we got there, he came with another volunteer Ayanar and said he would organize classes for us. He invited us home for food with his family, and he let us use his motorbikes so we could go to the monolith temple in Vettuvan Koil! He not only organized, but he came to all the classes we had in Kovilpatti.
Dinesh got in contact with us after following us on Twitter. He runs the monthly satsangs in Madurai. He organized our stay in a home with a Saniddhi in Madurai, and also brought us lots of fruit. On one of the days, we had a class 25 kilometers away from our route. Since it was our second class of the day, we didn't have enough time to bicycle there, so Dinesh lent us his car for the afternoon. He was a huge motivation for us during our stay in Madurai, as he felt that what we are doing is important and valuable. He became a great friend."
Local Flavors
As they biked through the alleys and bylanes of rural India, the Bicycle Yogis encountered rare places of cultural and spiritual importance, which you might be interested to explore if ever you get bitten by the travel bug.
Vettuvan Koil
"On Shivanga's birthday, we went to Vettuvan Koil and it was so spectacular! It is unbelievable how someone could create a temple like this. It is literally a small mountain which they carved from the top down and made into a beautiful temple full of intricately detailed stone carvings.
The huge mountain next to the temple had incredible carvings about the Jain culture and a few saints who have lived there.

In Sadhguru Sri Brahma's Birthplace
After our biggest class in Sattur, we went to Naduvapatti village in Virudhunagar District. This is the village where Sadhguru Sri Brahma was born. We had a class in the village school for 150 students. We somehow assumed that all the kids were going to be really well behaved and that it would be a breeze to teach them but it turned out to be the most challenging class we had till now! As the kids were talkative and excitable, Ajay had to use all the tricks in the book to keep them together. Ajay shared that at one point, he was even wondering if this was some kind of a spiritual test for him! But when it came to the meditation part, almost everyone slipped into meditation easily."
The Progress
The team is doing really well and will enter Karnataka on 3rd December as they head to Lepakshi. Here are the tentative dates for their upcoming itinerary. If you have contacts in or around these places for free classes in schools, orphanages, etc., please contact the Bicycle Yogis at the e-mail provided below.
Karnataka                  3 Dec
Whitefield                   5-7th Dec
Budigere/Singahalli   9-11th Dec
Chikkaballapur          11-12th Dec
Bagepalli                   12-13th Dec 
Don't miss out as we follow the pan-India journey of the Bicycle Yogis in this new series. It's sure to be "wheelie" fun! Any schools interested in hosting the Bicycle Yogis can email them at thebicycleyogis@gmail.com
For more frequent updates, find the Bicycle Yogis on Facebook, Instagram, Twitter and YouTube.
Editor's Note: Inspired to become an Isha Hatha Yoga teacher? For more information, visit www.isha.sadhguru.org/HYTT or mail info@ishahathayoga.com.