Life in Sadhanapada: Consecrated Space – The Ultimate Frontier
At the foothills of the Velliangiri Mountains where countless sages and seers have walked, Isha Yoga Center is naturally blessed by a cascade of energy. In addition, the many forms and spaces in the Center that have been consecrated by Sadhguru make it a uniquely intense place for those looking for inner exploration and growth.
Over 800 participants from 32 countries come together to spend 7 months in the consecrated space of Isha Yoga Center for their inner growth.
Life in Sadhanapada - All Articles
Here are the stories of some Sadhanapada participants who have committed seven months for such exploration in this powerful space.
"Every human being deserves to live in a consecrated space, a space that helps you transcend the ways of the world." - Sadhguru
Effortless Joy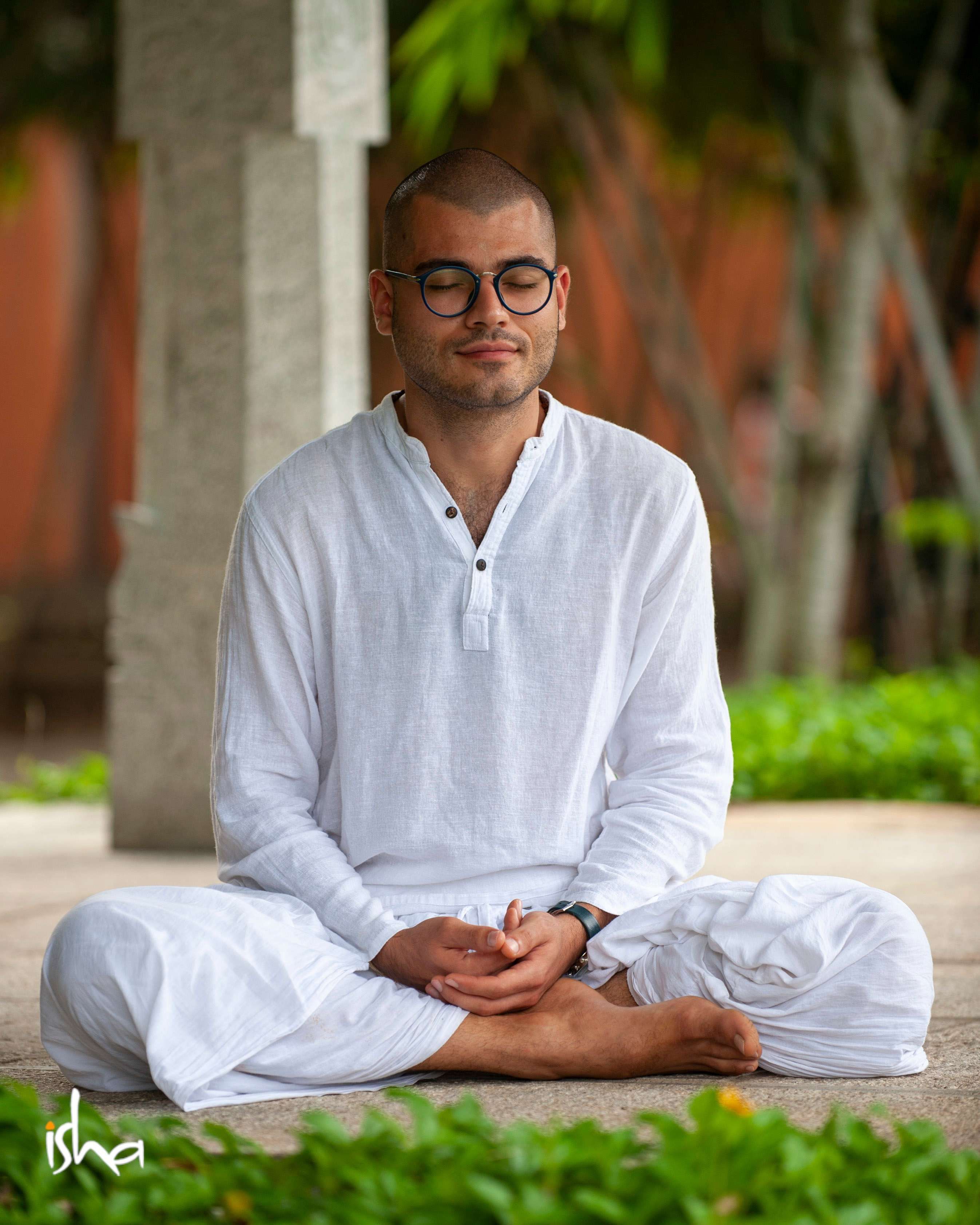 "I don't know what a consecrated space is, but when I look at what is happening within myself, if I take one step towards crossing my limitations, many more shortcomings of mine just fall off. Back at home, I would make a lot of fuss about everything that everyone else is doing. But inside the ashram joy just comes out naturally without effort and this has made me appreciate small things that happen around and within me." – Vaishak, 22, Bengaluru
The Different Consecrated Spaces in Ashram
A consecrated space experientially reminds you that there is much more to life than you think. #SadhguruQuotes pic.twitter.com/8hCfv4Mjym

— Sadhguru (@SadhguruJV) November 27, 2018
"Living in the ashram has made the above quote hold true for me. Before coming here I had just read about consecrated spaces and was a little skeptical, but having stayed here for the past five months, now I have within my experience the significance and impact these spaces have on my mind, body and emotions.
Get weekly updates on the latest blogs via newsletters right in your mailbox.
All the various consecrated spaces here are uplifting and invigorating. Whenever I have felt low, sitting in front of the Devi has comforted me; the Dhyanalinga has calmed the restlessness in me. Pradakshina always helps me stop my mind's chatter, leading to a more vibrant and focused me thereafter. I absolutely love doing sadhana near the Suryakund; the sound of cascading water there leaves me absolutely still. Chanting in the Adiyogi Alayam has often left me in tears; it is my favorite place for kriyas and asanas. And last but not least, chanting in Biksha Hall can be a hair-raising experience.
These experiences have made me greedy to yearn for more and more..." – Poonam, 23, Mumbai
Soaked in Grace
"Sitting in the Dhyanalinga temple shuts off the noise in my head. Taking a dip in Suryakund energizes me on a completely different level." – Jayaganesh, 24, Hyderabad
"Whatever is overplaying on my mind, I trash it all out by just simply sitting at Adiyogi Yogeshwar Linga; I am able to sit there for hours." – Abins, 28, Bengaluru
"Many times it has happened that I have sat with eyes closed effortlessly in the Dhyanalinga. Whenever I am in any of the consecrated spaces, in my experience time just flies by like anything!" – Muneer, 29, Piler, Andhra Pradesh
"Sitting in the Dhyanalinga is the best experience of my life... That stillness… I have never felt anywhere else." – Shweta, 26, Varanasi
"It's almost like the energy of the space does the Sadhana for you, when you are next to the Sannidhi." – Abhinav, 28, Mumbai
"This ashram space is crazy and vibrant. When I was in the Spanda Hall for the Bhava Spandana Program, the things I did were definitely not through the strength of my body alone; it was only because of the space. There is no doubt about that." – Kunta, 22, Hyderabad 
Doing Sadhana Together
"Doing sadhana together has done wonders to me. When I do Shambhavi on my own in the evenings, it's just normal. But when I do it with all of my fellow participants in the morning after asanas, I am so energized and that experience is the best ever. I can feel the place is so intensely reverberating and energizing in the morning.
Before coming here, I did not give much importance or consideration to what a consecrated space was. That has definitely changed. The Suryakund is one such place - it brings vibrancy to me instantly. If ever I am feeling dull, I go to there, stay in that water for just around 10-15 minutes and I come back totally recharged and vibrant. All in all, my energy levels before coming here and now are not comparable. – Ramnath, 21, Hyderabad 
A Chinese Perspective
"In China, some mountains and temples also have positive energy, like Mount Wutai. But there is no other place like here with so many powerful spaces consecrated by Sadhguru. Life in ashram feels like living in paradise. I have become stable and still, more meditative, peaceful and joyful. My need for sleep and food has reduced despite taking on increased sadhana and volunteering activities. The energy in the ashram boosts me to a higher level." - Chan Cao, 32, Kunming, China 
Difference Between Ashram and Home Was Clear in the Very First Breath
"Recently I went home for my sister's wedding. When I started my sadhana there, on the very first day, with the very first breath, I realized the difference. It was like taking a bite into food to instantly realize that there was no salt in it. It is as simple as that. In that sense, the Ashram really spiced up the entire experience of the sadhana which is difficult to get at home." – Prayag, 27, Morbi, Gujarat
"I had to go home for couple of days for an emergency after staying three months in the Ashram. I distinctly remember how badly I wanted to get back. The sense of calmness and joy that I felt in the Ashram was perhaps taken for granted before leaving. An eighteen-year-long career full of long hours, extensive travel and stressful environment had taken a lot from me. But being here in Ashram space has given me an abundance of energy, clarity, stillness and I feel once again rejuvenated to take on the world anew." – Sathyanath, 38, Visakhapatnam, Andhra Pradesh
"At home, doing my sadhana every day and keeping up the consistency was a big challenge. I did not understand why I was feeling so lazy and lethargic and struggling to wake up early. In the past five months, because of the Sadhanapada guidelines, I now manage to wake up by 3:30 AM and go through the sadhana schedule so effortlessly. I realize how my eating habits play a significant role in how actively my system works throughout the day and on the amount of sleep I require. I found myself benefitting a lot from doing my sadhana in the Sannidhi space – there I am more focused and a lot more involved." – Ankush, 26, Hyderabad
Creating a Galaxy of Enlightened Beings
Sadhguru :
"If you want to produce generations of enhanced human beings, you need this kind of space. Otherwise, only by accident or by personal dint someone may become something, but you will not produce a generation of beautiful people. This culture produced a galaxy of knowledge, a galaxy of enlightened beings. If a large number of people are constantly touched by consecrated spaces, human beings would blossom with a completely different sense of wholeness, homogeneity and organic way of looking at life, and above all as full-fledged human beings." 
Coming Up Next...
As 2019 comes to a close, this is an opportunity for the Sadhanapada participants to reflect back on the Sadhanapada journey of 2019 and see how to make 2020 an even more fruitful year.
Editor's Note: Registration are now open for Sadhanapada here.