Kindling the Fire - Sadhguru's Recent Visit to the UK
"He's going to look into your eyes, he's going to feel the vibe, and he is going to decide what he is going to talk about." – This is how Sadhguru was introduced to over 50 attendees of the Young Presidents Organization on 11 March 2010, in Asia House, London. In his private talk on "Technologies for Inner Wellbeing," Sadhguru addressed questions ranging from "What is the most important thing in my life?" to "How can you put off the mind?" to "How do you experience boundlessness?"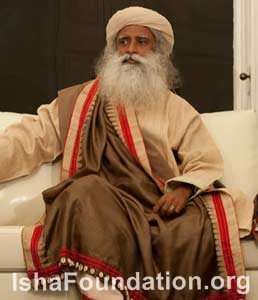 Touching the subject of perception, Sadhguru told about his childhood days, as he paid absolute attention to everything. His take-away message for the young top-managers was: "When you do not assume anything at all, either about yourself or the world, you cannot help pay attention; you have to pay attention. You cannot ignore life. You have learned to ignore life within and outside because of too many assumptions and ideas and philosophies that you have. That's what belief systems are. The spiritual process does not involve any ideology, does not involve any philosophy, does not involve any belief system, it is just like science."
The talk was followed by a dinner where attendees had the opportunity of a closer interaction with Sadhguru, to ask more questions, and try to find out what he and Isha are all about.
On 13 March, over 250 Isha volunteers gathered under one roof in cold London for a daylong Sathsang with Sadhguru. The meditators came not only from the UK's capital but all over Europe to spend the day in his Grace. During the Sathsang, Sadhguru answered the meditators' questions and concerns, throwing more light on a variety of subjects that included psychological diseases, Isha Samskriti, as well as the Linga Bhairavi consecration and yantras. The meditators left bedazzled and inspired, looking forward to their next encounter with the Enlightened.
Get weekly updates on the latest blogs via newsletters right in your mailbox.