Sadhanapada 2020 – Meet the Participants (Part 2)
Here is the story of Werner, a 51-years-young gyrocopter pilot from Germany who joined Sadhanapada after Inner Engineering completely transformed his life. Two Sadhanapada alumni also share about their own journey and offer some advice!
In the second part of this series, we sat down with Sadhanapada participants to explore more about their life, what brought them to Sadhanapada and to hear about their journey so far. If you have not read the first part of this series yet, click here to read it. Werner was born near Stuttgart, Germany and is 51 years old. His intriguing and touching story is a must read! Radek and Gagandeep are alumni from Sadhanapada 2019 who share some reflections and also offer advice for the current batch.
Werner
I think I was on some kind of spiritual path since I was 14 and in that age, Jesus became like a big idol for me. I admired the way he walked and the power and the strength of who he was. I was really inspired. I joined the Franciscan Order for around fifteen years - not in a monastery, but in the third order which is a family order.
Q) You must have been in school at that age. Did you like it?
I didn't like school, absolutely not. These thirteen years of school were really horrible for me. I just wanted to be outside in nature. This was 1988 or '89, when conscription in the army was mandatory. A lot of people in Germany don't want to join the army, but I enjoyed it because I was really outside in nature all the time. I was in what is called as "airborne." We jumped out from helicopters and planes and there, my love for helicopters was born.
Q) So did you become a helicopter pilot?
No, not immediately. Life went on. I worked different jobs. When I was around 30 years old, I was super frustrated because I was selling products. The products were good actually - products for health and for wellbeing, but everyone who came into my life, I saw if I could sell them something. I started to recognize that I'm not so interested in the person but more interested in what they have in their pocket. It was a hard shock for me to see these changes. I quit.
I have lived for 50 years, I've been around and now I feel ready for the real flight.
My dream was to fly helicopters. It was the beginning of the gyrocopter era in Germany, and I directly stepped into this. I flew people around and became a flight instructor for these things. And it was a superb time because for the first time in my life, I was doing what I really wanted to do since I was a little boy. In 2006, I had my own gyrocopter, my permissions, everything was clear, and I started to do it.
And then one day, I had a flight accident because there was a manufacturing defect in my craft. I fell from heaven. I was in a wheelchair for some months after that. It was a hard time because life was going great for me. Then suddenly, this shook my life.
Q) What exactly happened during your crash?
I went directly down onto the ground at a high speed and without a safety belt or anything. It is impossible to survive this kind of impact. In the Christian culture, we say "how angels work." When I fell, it was like time was split into thousands of slices. It felt unreal. It was something different in that moment. It was immense. Just a millisecond after that, I didn't know if I was still alive because it's impossible to survive this. But half a second later, there was such a pain in the whole body that I knew I was alive. It was an experience of not being in the so-called reality.
My dream was over. My gyrocopter crashed, I crashed. I didn't know if I would be able to walk anymore. And since that time, I was in some way looking for something so I could show some gratitude back because I felt like it was a second chance in life. I had a nice time in the air, flew a lot of hours. But since a few years, I've been looking for something more special. I have lived for 50 years, I've been around and now I feel ready for the real flight.
Q) So, that longing brought you to Yoga?
I tried Yoga in Germany. I went to seminars. But it didn't work for me. Everything was aching and it was too much to learn. I was like full brain, but nothing worked. I thought Yoga was not for me. And then in 2019, a friend of mine showed me a Sadhguru video and that was a shift in my life. Something changed immediately because it was like an awakening of something in me. Here was someone speaking the truth, only the truth and all the time, the truth.
I thought, "Maybe I should try to do this Inner Engineering." So I did the program in 2019 in Hamburg and that was a big shift.
Get weekly updates on the latest blogs via newsletters right in your mailbox.
I don't know what else Sadhanapada will open up for me but I will hold this like a treasure in me.
Q) Did you notice any specific changes?
A lot changed immediately after that. I had been trying to stop smoking all my life. I often stopped smoking, but the very next day, I started again! I was smoking around seven cigarettes a day. I was drinking a lot of alcohol, like a lot of people in Germany. We enjoy drinking beer. After learning Shambhavi Mahamudra, after the Inner Engineering, I stopped smoking completely because there was no longing for it anymore. I didn't expect this. I did not go there to stop smoking. But just like that (snaps fingers), it disappeared. Super easy! No withdrawal symptoms, no nothing. And from that October on to the end of the year, I started to drink much less - almost nothing. And then on 31st December, I stopped drinking alcohol completely. The urge disappeared completely. I felt completely free. That is what I am super thankful for because that was my dream, to stop smoking. I started smoking around sixteen, now I'm fifty-one, so it's a thirty-five years' old addiction. I had times in my life where I was coughing so much and there was a lot of brown stuff coming out of my lungs. I was scared of getting cancer. So this is really an amazing thing that some Yogic exercises can change so much.
Q) Coming from such a different culture, how are you adapting to living in the Isha Yoga Center?
From the first moment on, I enjoyed the food here. The very natural, basic food is very good for my body. The selection is very good, the ingredients are balanced and I like it very much. I gained maybe, one-and-a-half to two kilos, which in my case is good. The mixture of having good food and doing exercises in a regular way, I can see the results. The body becomes stronger. When I first came here, I was thinking a little bit about what will happen? Will I stay, will I be a vegetarian? In the last 15 weeks of being here, I drank no coffee. I used to drink a lot of coffee before in Germany. On some days, up to seven cups of really strong coffee, with a lot of caffeine in it to keep me awake. And now also, this longing for coffee has disappeared. I cannot speak for any Yoga, I just know now that Isha Yoga works. It works very well in my case. I am already into the second part of my life. I wanted to feel a little bit more at ease within myself. And now, I see that it's possible.
It has only been half-a-year since I came here in March. I'm a little bit excited and looking forward to what will happen, now that I am in Sadhanapada. There are a lot of possibilities for establishing this new path, this new life. I feel a lot of gratitude, a lot of thankfulness for many, many people for everything I experienced here. I really can highly recommend this place and Isha Yoga workshops, seminars, online courses to everybody out there in the world who is looking for something higher. To find something for one's life, this is a good place to be. It was the most important thing in my life to come here to the Isha Yoga Center.
Q) What would you be doing in the lockdown if you had not come here?
If I were home, I would be sitting there in a thirty-four square meter flat in Berlin in the lockdown. But I was here. Now when I look to my right side, I see the Velliangiri Mountains. It's so beautiful. I will miss them when I go back to Germany. There was really nothing important to do at home in Germany, and here, I have the chance to do the most important thing, to find something profound for my life. I don't know what else Sadhanapada will open up for me but I will hold this like a treasure in me.
Gagandeep (Sadhanapada 2018 Alumnus)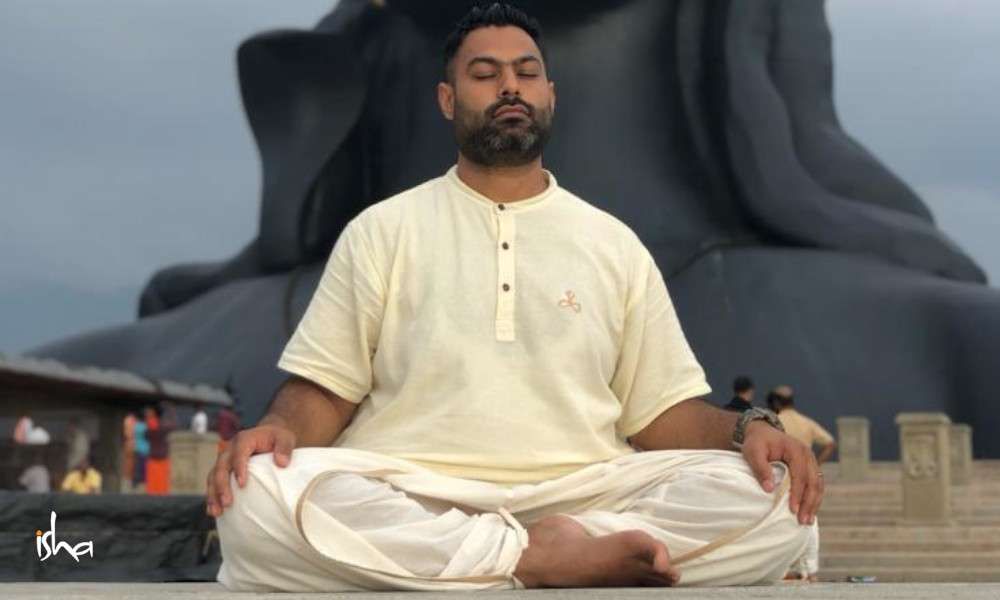 Q) What did you struggle with most when you began your Sadhanapada journey?
In the initial stages of Sadhanapada, the hardest thing for me was managing my time and doing these early morning practices because I was never a morning person. But as months went by, I started to feel the ease in my body and mind. Along with that, I began to feel the value of the practices, and my intensity and endurance were going up on a daily basis. Devotion, something I was far away from in the beginning, also found a place in me, especially during the Adiyogi Pradakshina.
Q) Any advice for those who have taken this step of joining Sadhanapada?
I personally feel that it is an individual's commitment to be in the ashram for that long. And if you are fortunate enough to be accepted for Sadhanapada, leave all the advice and worries behind and give yourself totally to the process.
Just follow the guidelines given by Sadhguru, you will transform yourself into something you can't even imagine.
Radek (Sadhanapada 2019 Alumnus)
Q) How were your initial stages of Sadhanapada compared to later on?
As the initial high faded away and the schedule became repetitive, I became more conscious about why I am really here and how I want to be after I leave the program. With additional practices, more time management and self-discipline became crucial. The dreams and expectations of where I should be on my spiritual journey after the program ends were replaced by the acceptance of the present state.
Q) What advice do you have for people who've just started their Sadhanapada journey and how has Sadhanapada changed your life?
Gradually adopt a certain time regimen, especially before brunch. For example, get up at a particular time every day, and repeat it no matter what time you went to bed. You will learn to observe the mind and listen to your body - when to go to sleep, what to eat for dinner, etc. After some time, it starts happening with much less effort. If you fail one day, continue the next day as usual. This brings much balance. Do not plan the whole day like this though, and allocate some time for relaxation.
Q) What impacted you the most in Sadhanapada?
Doing sadhana in a spiritual community – a realization that we all have our own limitations that we constantly struggle to overcome. This has helped me to take life less seriously while serving as a reminder of why I am here.
Editor's Note: Find out more about Sadhanapada and express interest for the upcoming program here.