The Making of a Hata Yogi: Understanding the Human Body
In this week's post in The Making of a Hata Yogi series, the participants share their experience of their anatomy and physiology classes.
Week 11: The Isha Hata Yoga Teacher Training Program is an endeavor to bring back classical yoga in its purest form and to train teachers who can impart this phenomenally powerful science. In this series, we will be following the participants through their exciting 21-week journey.
In Week Eleven of the program, we look at how important it is for a Hata Yoga teacher to be well-versed with human anatomy and physiology.
If you learn to use this body as an instrument, it is the most fantastic and powerful instrument on the planet. Yoga is towards realizing this.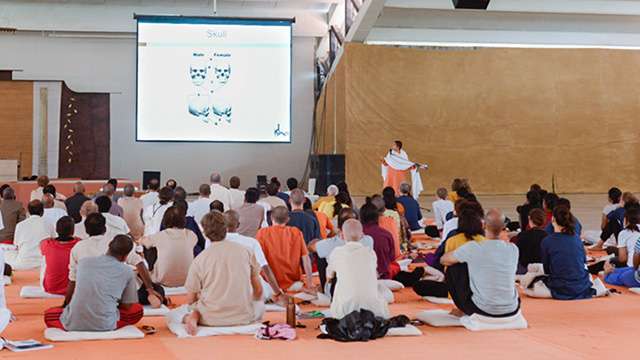 As a part of the Hata Yoga teacher training curriculum, the students are taken through the subjects of Anatomy and Physiology and the application of the principles to the practice of yoga. They are also taught about the subtler aspects of the human body from a yogic perspective.
Sadhguru has stressed upon the fact that it is extremely important for a teacher of Hata Yoga to be educated on the functioning of the human body.
Sadhguru:
Being a Hata Yoga teacher, you must understand as much as possible about the physical structure of the body; as much as possible, not as little as possible.
The understanding of what is what, to whatever extent possible, we want to set a standard here. The information that's given to you, it may be hard to grasp because you are trying to do it in a short amount of time. But your study should not stop within 21 weeks; you must know at least this much at the end of a year or two. You must continue to study and know these things. This is an insurance, a fallback. If you do not realize anything from within in a short span of time, you at least know theoretically that this is what the system is and this is how far it can go. Otherwise, you could damage someone's life. Knowing the body from outside is a daunting task; I want you to appreciate the complexity of your system.
Get weekly updates on the latest blogs via newsletters right in your mailbox.
The participants' reactions to the anatomy lectures have been positive. Stephanie says that ever since they started the anatomy and physiology class, she has started to look at herself with so much more tenderness and care, and above all with utmost gratitude. "I often find myself lost in those video clips about how the cells or our organs/muscles function. Experientially, I feel like I'm seeing my body for the first time. I don't know what to do but to bow down to the designer of this masterpiece."
Srividhya tells us, "Biology in school was boring because there were too many details to remember. But anatomy and physiology lessons are interesting because we're learning what is relevant to our Hata Yoga practices – the basics of the human body, the muscles and skeletal system and the digestive and nervous system. The sessions are impressing one thing upon me– that the human body is so synchronized and coordinated. I am looking forward to knowing more in the class because it is helping me pay attention to how I eat, how I stretch, how I breathe and even how my limbs move."
The Isha Hata Yoga Teacher Training Program is an unparalleled opportunity to acquire a profound understanding of the yogic system and the proficiency to teach Hata Yoga. The next program will be conducted from 12
th
July to 6
th
December, 2014. For more information, visit
www.ishahatayoga.com
or mail
info@ishahatayoga.com
.