The Making of a Hata Yogi: The Mind-Body Connection
In Week Eighteen of our series "The Making of a Hata Yogi," we look at Visualization, a very subtle aspect of Hata Yoga.
Week 18: The Isha Hata Yoga Teacher Training Program is an endeavor to bring back classical yoga in its purest form and to train teachers who can impart this phenomenally powerful science. In this series, we will be following the participants through their exciting 21-week journey.
At Week Eighteen, we look at visualization, a very subtle aspect of Hata Yoga. Also, the group goes on another outing – this time, to the wonderful waterfalls of Kutralam.
With only a couple of weeks of the Hata Yoga Teacher Training Program left, we examine a highly crucial and subtle aspect of Hata Yoga as it is taught in Isha – visualization. Sadhguru tells us: "Hata Yoga is not just about bending your body – you must learn to use your mind, meticulously."
He explains further: "Using the mind is an important part of evolving the body. So it's very important that you learn to apply your mind keenly to your body, visualizing every aspect of what you are supposed to do. For one, it will perfect the process because it doesn't matter how many instructions we give you – hand should be like this, fingers should be like this, leg should be like that… your body will do its own thing because it has such a vast memory of its own. We want you to sit like a yogi but your body wants to sit like your grandmother because your grandmother is a much bigger force in this body than yogis of yore. The memory that the body carries will act out in its own way, unless you apply the mind to it. So the visualization process is very important in Hata Yoga, which is completely missing in the yoga that we exported to the West."
Participant Abhishek says, "So we visualize the practice in our minds, trying to construct an image of ourselves performing this practice. I suppose many of us reacted to this with a little skepticism at first, but over time we understand why we are doing this. Irrespective of what you are doing with your body or how you are sitting, when you visualize, when you create these images in your mind, you will definitely sense that there is a whole parallel universe within ourselves where you can feel the sensations associated with the thoughts in your head and your body as well. Not only does it strengthen your understanding of the practice, but it also sort of establishes the practice at a deeper level within the system."
Get weekly updates on the latest blogs via newsletters right in your mailbox.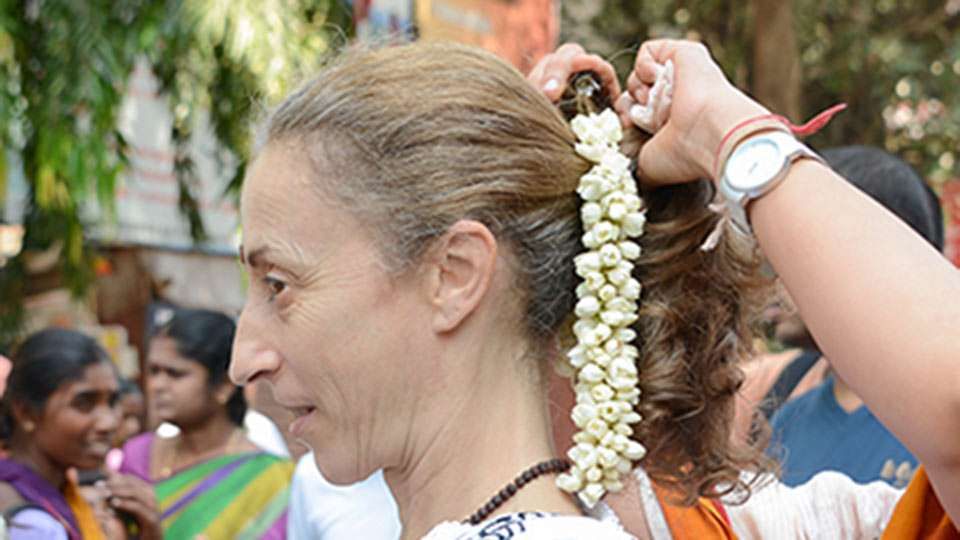 As the program draws to a close, there was yet another opportunity this week for the participants to visit some places of spiritual interest and, at the same time, gather some more memories.
The first stop was the temple town of Madurai. Everyone took in the magnificence and grandeur of the Meenakshi temple, its history and the significance of various aspects of architecture and sculpture.
The next stop was Kutralam, a picturesque place in Tirunelveli district of Tamil Nadu – close to 400 km from Isha Yoga Center. Located in the Western Ghats, this town is known for its numerous waterfalls and temples with fascinating histories. In fact, legend has it that when Sage Agastya came to the south of the Vindhyas
at the behest of the Adiyogi
, he spent considerable time in the mountains at Kutralam.
The next morning, after a sumptuous breakfast of paranthas and vegetable, the group set out for a day-long trek – an invigorating climb alongside streams and breathtaking scenery. The destination was a gorgeous waterfall nestled snugly in the thick green forest. The group soaked in the scene, opened their snack boxes, sang songs, among which featured the Sounds of Isha evergreen favourite "Alai alai" and "Yogeeshwaraya." The return was tricky as the sun set early and the rains had left the trail slippery. But there was a waterfall to bathe in at the end of the trek and that refreshed everyone again. The day ended beautifully with dinner, bonfire, games and music.
"It was a lovely trip – hectic in true Isha style," shares one participant. Donna says, "I loved our dips in the pounding waterfalls and trekking through glorious mountains. We were sometimes meditative, at times boisterous. I was grateful for strong human hand rails which seemed to appear and disappear as needed, gripping us to get us through the most slippery spots along the trail. The bus ride was quite long and tiring but it is the laughter, the warm connections, watching out and caring for each other that I will remember."
The Making of a Hata Yogi is a 21 part series...
The Isha Hata Yoga Teacher Training Program is an unparalleled opportunity to acquire a profound understanding of the yogic system and the proficiency to teach Hata Yoga. The next program will be conducted from 12th July to 6th December, 2014. For more information, visit www.ishahatayoga.com or mail info@ishahatayoga.com.