Inner Engineering Leadership Program for IAS, IPS, IFS and other Central Secretariat services
85 officers from the Indian Administrative Service, Indian Police Service and Indian Forest Service and other Central Secretariat Services participated in this 7th Inner Engineering Leadership Program sponsored by Department of Personnel & Training, Govt of India held at Isha Yoga Center from 27-31 Jan 2020.
Eighty-five officers from the nation's bureaucracy spent five life-transforming days at the Isha Yoga Center. In addition, 17 spouses of officers also chose to be part of the program, bringing the number of total participants to 102. The specially designed Inner Engineering Leadership Program has been one of most popular In-Service Training options made available to officers by the Department of Personnel Training (DOPT) for the last six years.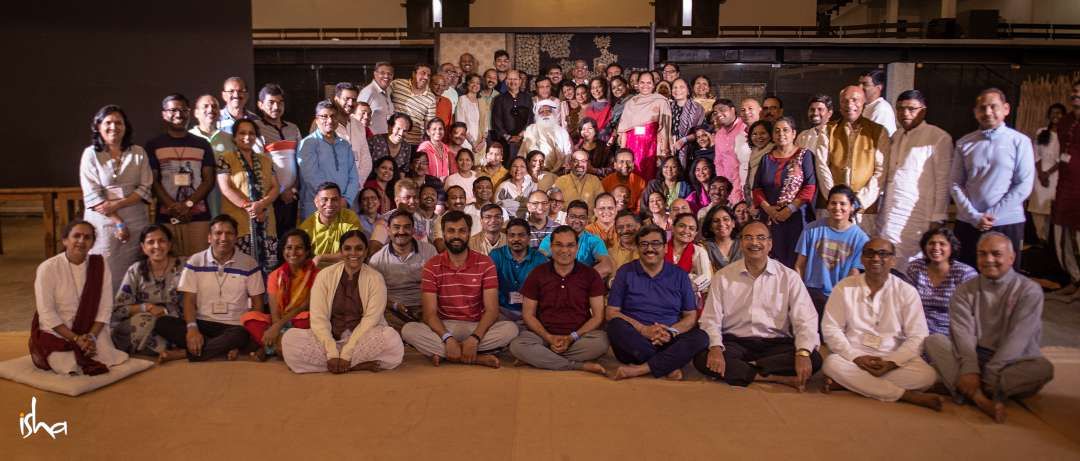 Conceived by Sadhguru, the program covers the entire Inner Engineering program course as well as an additional custom designed leadership component. Initiation into the ancient and powerful yogic practice of Shambhavi Mahamudra remains the core of the program.
It was heartening to see officers from every single Indian State coming to make use of this possibility, even from as far away as Sikkim, Odisha, Himachal Pradesh and Andaman & Nicobar Islands. It was truly a privilege to host these officers who are willing to invest their time and energy for their own growth.
As Sadhguru has pointed out in the past, elected governments have a limited tenure but the Indian bureaucrats serve the nation in their designated roles for many decades. These officers have the authority to influence crucial decisions in public life and their decisions can impact millions of people. So a program like this becomes an absolute necessity if we wish to bring about a lasting positive impact in the lives of millions of people.
The impact of earlier programs was well showcased by the fact that one IAS officer who had participated two years ago joined as a volunteer this time around to help share this possibility with his colleagues.
A volunteer shared his experience:
Volunteer: The participants were all overwhelmed by the volunteering activity that's going on here. They are also overwhelmed by the manner in which the program is impeccably executed. One person shared that in his whole career, he had never seen a program executed by an organization like this in any part of the world. A lady officer echoed the sentiment, "We always appreciate the West, the developed world, they do this and that. Here is a program which has been impeccably executed by a group of untrained volunteers who just come and do things and in a manner which I have not seen before." I was delighted to hear such an overwhelming response from them. You could actually see the transformation in them as days went by. It was so clear in the way they were doing Namaskar to us and through their words.
"My breath, my thought, everything came to a standstill, and I experienced that for six minutes, seven minutes. I hope I can continue to remain in that state for the whole day."
Get weekly updates on the latest blogs via newsletters right in your mailbox.
My most memorable moment of volunteering was when one officer explained today how he had experienced a stillness in the last few minutes of Shambhavi. He said, "My breath, my thought, everything came to a standstill, and I experienced that for six minutes, seven minutes. I hope I can continue to remain in that state for the whole day." It was an absolute privilege to volunteer for this and see people coming to some kind of inner experience. 
Let's hear directly from the participants: 
Ms. Ravneet Kaur, IAS, Additional Chief Secretary, Power Department, Government of Punjab
I am very impressed with the facility. It's remarkable, the kind of effort which has gone into this place and the dedicated volunteers who are here. I found the program quite unique. It made me more aware of who I am, and in what state my physical body is, I became very aware of that. 
Mr. Ashok Sangwan, IAS, presently posted as Divisional Commissioner in Gurugram, Haryana
My experience has been absolutely out of the world. It has impacted me as a person and as I become a more peaceful and a more open human being, I am sure my work will be impacted positively to the largest extent. If I am happy, then my work place is happy, my colleagues are happy, the people I interact with are happy, and work is a pleasure. It's going to have a tremendous positive impact. 
Mr. Mohan Karnat, IFoS, working as Additional Principal Chief Conservator in Maharashtra, looking after protection
The setting is so good, it is next to the Velliangiri hills; and since I'm from the forest, it's like coming back to the forest, a serene atmosphere and a very good setting. Everything is made in such a natural way. The buildings are blending into the surroundings and it is not standing out as an artificial thing. At one point of time during the Shambhavi Mahamudra Kriya, I was totally out of the world just by breathing in a certain way. It was an ecstatic experience. I will continue this for life. And I didn't come alone because I didn't want to just keep this program for myself, I brought my wife also, so that it will be complete. 
Dr. Manish Kumar Bansal, posted at Ahmedabad as Regional Commissioner of Municipalities
"As soon as we enter ashram, Adiyogi just catches your eyes and it is just mesmerizing. Apart from this the volunteers who are working here are very devoted. This is a beautiful program. During professional life we need to take decisions. For that we need clarity. This program, particularly Shambhavi Mahamudra, brings so much clarity. Undoubtedly everyone, not only in government service, must attend it, and I am one hundred percent sure that he or she will like it one hundred percent; and you must continue the practice and it will work for you hundred percent." 
Mr. Lokesh Jahangir, presently serving as Additional Collector in Guna, Madhya Pradesh
"I feel far more composed and there is a sense of serenity inside after these five days. For the first time in my life, in these thirty-three years, I have felt the conviction to look inward. An equal, if not more, amount of time should be spent in looking inwards as we do to our surroundings. The Inner Engineering program is something which I believe every civil servant must undergo. In fact, I would be happy if the Government of India makes it mandatory for all the probationers in the foundation course right at the outset of their careers. I think it will make a great deal of difference to the officers and the nation building as well. It's a tool which will stay with everyone for their entire life, and it will bring in a huge amount of positive difference in outcomes in the public service delivery system, apart from personal well-being, of course." 
Mr. Arun Sharma, working in the Ministry of Finance, Department of Revenue
"This is my first time visiting the ashram. For the last almost eight to ten years, I have been watching videos of Sadhguru. I always wanted to meet him and I always wanted to come here. During the last one or two years I have seen Mahashivratri on television. When we came to know that we have a program of DOPT and it can be arranged, then this visit became a certainty. I have done a large number of trainings, abroad as well as in India, and I haven't come across such an experience as what I had here." 
Mr. Sandeep Sarkar, Joint Secretary in the Cabinet Secretariat, New Delhi
"The Inner Engineering program is not really a training program in the normal sense of the training program that we know in the corporate world or in the business world.  It's an experience. It's a deeply gratifying experience and the experience is again on the physical plane, but the more important experience is on the spiritual plane, and when you just sit here with your eyes closed and something happens within you, that is something that I don't think you can find anywhere else. I think that is the USP of this program." 
As we bid fond farewell to this wonderful batch of officers and their spouses, it was plainly visible that they had all been deeply touched. It is truly encouraging to witness the nation's leadership taking an inner step. Empowered with the tools of transformation, we hope that they continue serving the nation and leading from the front with an ever-deepening sense of clarity, intensity and balance.
Editor's note: Read all about the Inner Engineering Leadership Programs