Summer Cool Recipes – Pumpkin and Beetroot Salad
Now that the monsoons are almost here, we wind up our series on cooling recipes with two delicious salads.
June has just begun and in a week of two, the monsoon clouds will cover South India, announcing the end of summer. To wrap up this series of cooling foods, we bring you two delicious recipes – a sweet fruity salad with pumpkin and fragrant cinnamon, and a peppered concoction with fresh beetroot and crunchy papad. Enjoy!
FRUITY PUMPKIN SALAD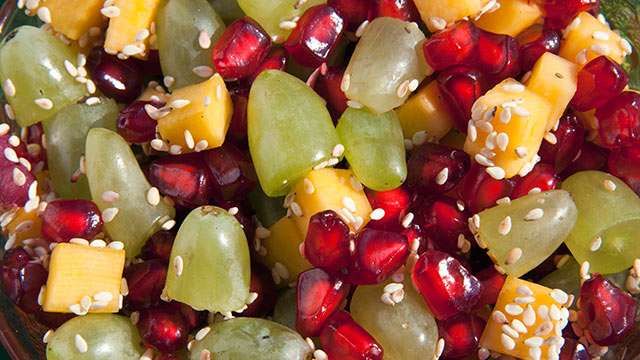 Serves 2
Ingredients
200g Pumpkin, peeled
¾ cup Pomegranate pearls
1 cup Seedless green grapes
1 tablespoon White sesame seeds
1 teaspoon Honey
¼ inch stick Cinnamon
a pinchSalt
1 teaspoon Lemon juice
Method of preparation
Get weekly updates on the latest blogs via newsletters right in your mailbox.
Chop the pumpkin into small square pieces. Heat two cups of water in a deep pan and when it comes to a boil, add the pumpkin. Cook on low heat for five minutes. Drain in a colander. Later, spread it out on a plate so that it cools completely.
Meanwhile, place the sesame seeds on a griddle and place on low heat. Dry roast them for 1 minute. Set aside to cool.
Put the cooked pumpkin in a deep bowl. Halve the grapes and add. Add the pomegranate pearls.
Place cinnamon stick in a mortar and crush it coarsely with the pestle. Now add honey, salt and lemon juice. Grind this mixture together and pour this on the ingredients in the bowl. Mix everything well together.
Serve sprinkled generously with sesame seeds.
CRUNCHY BEETROOT SALAD
Serves 2
Ingredients
1 large Beetroot
200g Cabbage
1/4 cup Fresh mint leaves
2 Papads (Poppadums)
2 tablespoons Lemon juice
a pinch Salt
1 tablespoon Olive oil
a pinch Black pepper powder
Method of preparation
Peel the beetroot and place in a small pan. Pour just enough water so that it is soaked. Place on heat and cook for 4-5 minutes.
Meanwhile, shred the cabbage and tear the mint leaves by hand. Roast the papads. (Alternatively, you can fry them if you like.)
Remove beetroot from water and allow it to cool completely. (Do not discard the water as it has nutrients).
Make thick slices of beetroot and further cut into long sticks. Place in a deep bowl.
Add cabbage, mint, lemon juice, salt, olive oil and pepper powder. Toss lightly.
Crumble the papads roughly and add. Toss again and serve immediately before the papads become soggy.
Tip: You can use the water used to boil the beetroot to make a soup.