Keep Calm and Gain Momentum…!
A Bottom Up and Top Down approach in motion – from organizing a grassroots training workshop for 3000 farmers in Tamil Nadu to receiving the National Water Award from the Government of India, the Rally for Rivers movement is picking up momentum on all fronts.
National Water Awards, New Delhi
Rally for Rivers received First Place at the 2018 National Water Awards under the category of Best Educative/Mass Awareness Efforts.
Besides the record breaking campaign the recognition is a result of the strong and committed follow up of the movement.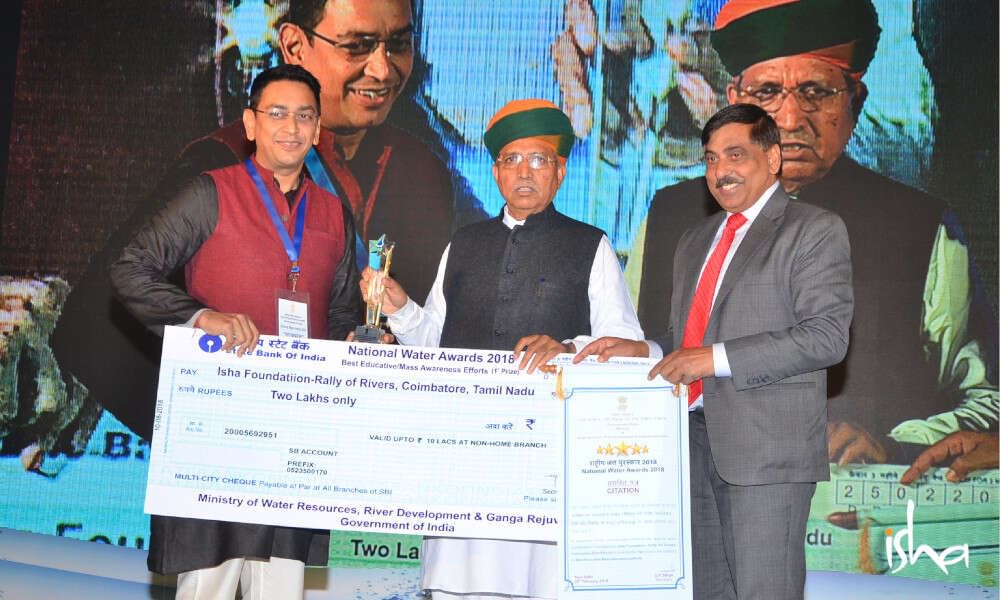 Press release on National Water Award for Rally for Rivers
Great Steps Towards Sustainable Farming in Tamil Nadu
With 3000 farmers from across the state, the largest gathering in one place at one time for over one week, towards the vision of sustainable agriculture in Tamil Nadu took place in Trichy.
Rally for Rivers organized a nine-day training program presented by Isha Agro Movement on Subhash Palekar Natural Farming (SPNF) methods at S.R.M. Medical College from Feb 2 to Feb 10, 2019.
Best practices were shared during the training workshop by Subhash Palekar, the top expert in Natural Farming in India and a leading expert worldwide. The Padma Shri awardee has won credibility in the field as a result of his evidence-based work, proving the effectiveness of natural farming models and technology. Farmers were educated on input preparation, steps to enrich the soil, the importance of local cattle breeds, crop cultivation, traditional seeds, and selling the goods with added value.
The program was a historic milestone for Rally for Rivers and Isha Agro movement to reach more people through the movement, solidify expertise and continue supporting farmers on the ground with economically beneficial and sustainable farming methods.
Folks for Farms: 3000 people fully engaged for nine days. A variety of people including youth were present in large numbers, a good percentage of practicing farmers and even some from other professions and backgrounds joined to be part of this revolution.
Get weekly updates on the latest blogs via newsletters right in your mailbox.
A Drop of Spirituality: Isha Yoga (Uyir Nokkam Program) was conducted for the participants every morning.
Committed Hands: Rally for Rivers and Project GreenHands volunteers made sure all aspects of the program happened in the best way. From registration, food cooked with love, quality accommodation, training support and making sure everybody was smiling for all nine days.
Model Farm Field Visit in Pune, Maharashtra
It was a full-fledged field trip considering that they had a chance to interact with farmers from across India who also participated in the workshop. Seeing the proof of the success stories boosted the confidence of the Nadi Veera trainers in adopting the same methods for the Rally for Rivers projects.
"During the visit we saw how the SPNF methods are being implemented in the farm with the use of Jeevamritam, Ghanajeevamritam, and Kashayams. The most important thing I found on this trip was the difference between a natural farm and a chemical farm. The difference is in the soil. Soil in a natural farm was soft, dark, moist and porous filled with mulch, while the soil in chemical farms are hard and less porous."- Amardeep, Nadi Veera
"We saw farms with main crops such as sugarcane, onion, and coconut, with a variety of intercrops ranging from vegetables, pulses, fruit trees, spices and beans. The highlight of the trip was the last day when we visited a five-layer model orchard with coconut, papaya, pomegranate, sapota, mango and a variety of intercrops in an arid region where the soil was mostly rocky. This one experience made me realize the effectiveness of SPNF in Indian agriculture. If these methods can turn rock into soil and grow food for India, I can only imagine how effective it can be in normal soils." - Nishant, Nadi Veera
What enthralled me most was the live stories of Farmers out there. How by applying simple methods suggested in SPNF, they came out of poverty and were now living a happy and satisfied life.
One experience which I'll cherish for the rest of my life is when we went to grapevine farm. Here we were, sitting under the shade of those big green berries and above the ground - on the layer of straw mulch. I was excited to see the soil beneath the mulch. As I took some straws out and held soil in my palm... Oh, that was the true joy!
I could see clearly that I could focus more on Subhash Palekar ji's session that day than other days of sitting on bare land. I just didn't want to get up and leave the place! After the session got over, I felt a certain ease and calmness in my system.
The soil and its sensation still reverberates within me.
For me the training was not just about collecting info on horticulture but was of seeing life around - soil, plants, water more keenly and intimately. I am privileged to have got an opportunity to be part of a training like this. - Arshita, Nadi Veera
Editor's Note :Stay tuned to find out the next steps for the Rally for Rivers pilot project in Yavatmal. On March 5th, 2019 the Maharashtra cabinet officially approved the budget for project implementation on the Waghari River. The project will be progressing rapidly in the coming months. Learn more about how you can get involved at RallyforRivers.org/volunteer.