The Making of a Hata Yogi: Mastering the Limbs
In the second week of the Isha Hata Teacher's Training, the group completed the basics of Angamardana, a science that traces its historical lineage back to Agastya Muni himself.
This year's Isha Hata Yoga Teacher Training Program began on 22nd July 2013, the auspicious day of Guru Purnima. In this series, we will be following the participants through this exciting 21-week journey. 
In the second week of the program, the group completed the basics of Angamardana, a science that traces its historical lineage back to Agastya Muni himself.
Sadhguru says: "Anga means limbs or parts of body, mardana means to annihilate or gain control over. If somebody is your hardcore enemy, you have complete control over him only when you manage to have him dead. So, this is about killing the limbs. 'Why would I want to kill my limbs?' This needs to be understood – killing does not mean putting it to death; killing means complete mastery over that."
Get weekly updates on the latest blogs via newsletters right in your mailbox.
"Are the limbs dying?" we asked the group. "The training has been fantastic," participant Heena Chauhan exclaims with a smile, before adding, "but the limbs are definitely dying." Simone Umbach from Germany agrees: "Angamardana definitely lets you feel your legs, back and joints like never before. You notice pain in muscles you didn't even know you had!"
As the program moved into the second week, the participants are finding that the days have fallen into some semblance of a rhythm with Guru Puja, Hata Yoga sessions, chanting, Sadhguru's videos, lectures and much more. Naturally, some are experiencing teething troubles while taking on challenges of traditional hata yogis such as cold water baths and sitting for long periods, as well as the practices themselves. Barbara from the US who tried cold water showers  admits " take some getting used to" but thinks she has developed a "working relationship" with them. Simone believes cold showers are getting easier now: "Finally I'm able to just pour a bucketful of cold water all over me without hesitation!"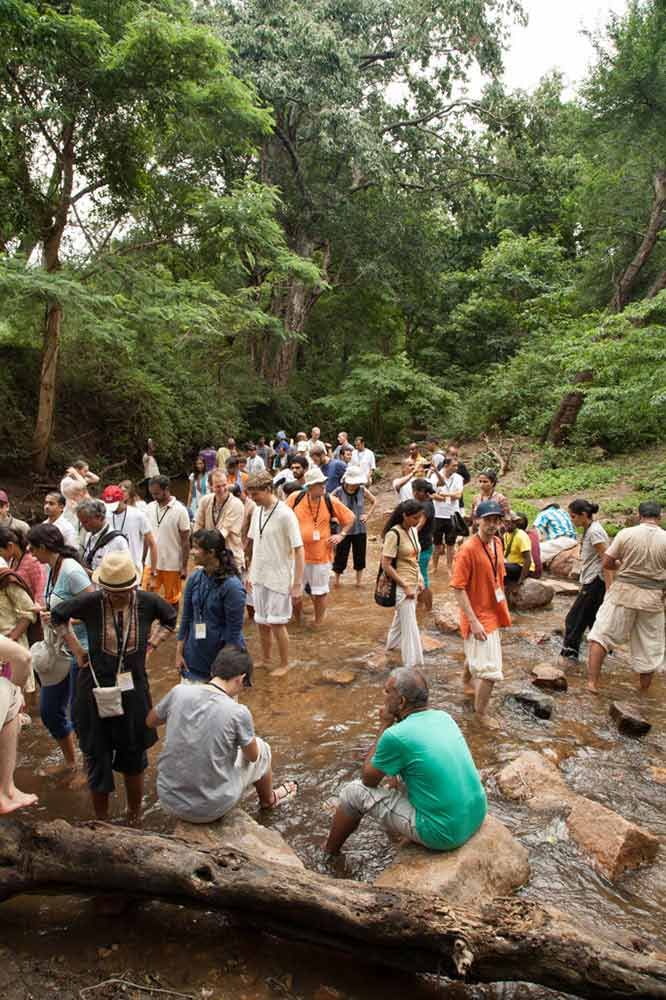 After continuous rain for a week, the sun came out, and the group took this opportunity to visit a nearby tribal village. In the evening they enjoyed the treat of a moonlight dinner in the ashram and tucked into pizzas, mango shakes and popcorn with great relish.
As the group settles in, Arvind Falke sums up the atmosphere: "About 17-18 nationalities and 80-plus students... it's a cultural potpourri here. The Adiyogi Alayam has become home for us. We practice here, gather here, eat here and stay around here." About his sadhana, Abhishek Guru says, "I can really feel my spiritual journey blasting off into space... The Hata Yoga practices are balancing my system in a way I didn't expect."
Editor's Note: Isha Hatha Yoga programs are an extensive exploration of classical hatha yoga, which revive various dimensions of this ancient science that are largely absent in the world today. These programs offer an unparalleled opportunity to explore Upa-yoga, Angamardana, Surya Kriya, Surya Shakti, Yogasanas and Bhuta Shuddhi, among other potent yogic practices.